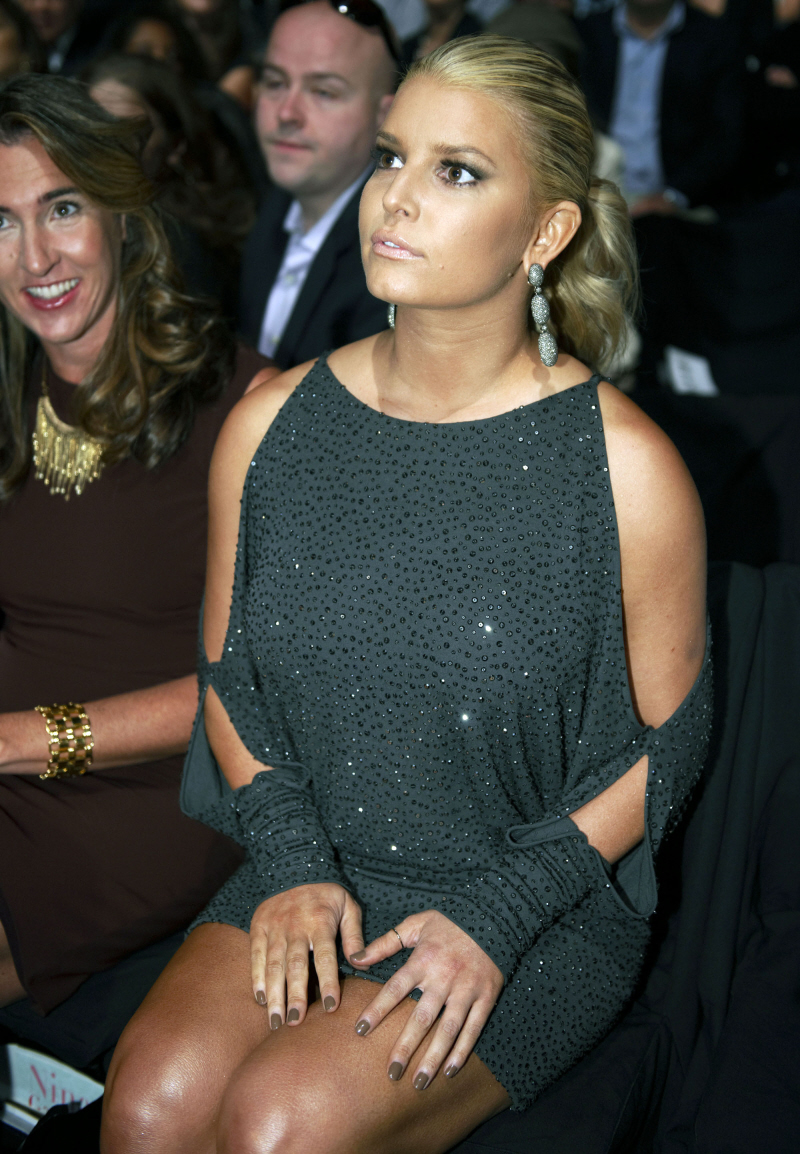 Just so everyone doesn't start yelling at me right away, let me just say a few things at the beginning. I do think Jessica Simpson is a very pretty girl. She is even what I would call a "natural beauty" – I find she looks lovelier with little to no makeup or her usual drag queen styling. I also don't judge Jessica for her weight fluctuations. Millions of women struggle with their weight, and Jessica might just be one of our patron saints. My judgments on Jessica are now and have always been on her general stupidity (which makes her relatively harmless, although very funny) and her consistently tacky, awful, unflattering styling. She's a short girl with a huge rack and lots of food issues – and she's also "the head" of a billion-dollar fashion line. Surely, it's not THAT difficult for her to find flattering styles?
Anyway, on to the story – The Enquirer reports in this week's issue that Jessica wants to become a spokeswoman for a major weight loss company, like Weight Watchers or Jenny Craig. I think it's not a terrible idea, although Jessica seems to gain and lose weight more rapidly than the average woman, and I don't see why it has to be all "ZOMG, get Jenny Craig" when Jessica should just go the gym more often (and stop guzzling cocktails).
Jessica Simpson is lining up a new weapon in her ongoing battle of the bulge – the blonde beauty has set her sights on an endorsement deal with a major weight-loss company. Jessica, who has been adding weight in recent months, packed on another 10 pounds over the holidays. She's now up to about 140 pounds, says a source close to her, and Jessica wants to follow in the footsteps of Valerie Bertinelli and Jennifer Hudson, who transformed their bodies while becoming diet spokespersons.

"Jessica's convinced that becoming an endorser for a company like Jenny Craig, Weight Watchers or Slim-Fast is her ticket to success," an insider told The Enquirer. Hooking up with a respected diet program would be "a win-win situation for Jessica," the insider explained. "Jessica wants to look her best and slimmest in her wedding gown later this year, and she desperately needs a career boost."

The source added: "Jessica loves inspiring women, and she thinks working for a weight-loss and diet company would help reconnect her with her core audience."
[From The National Enquirer, print edition]
That last part bothered me a bit – "Jessica loves inspiring women, and she thinks working for a weight-loss and diet company would help reconnect her with her core audience." Honey child, who is this "core audience" you speak of? Fans of Daisy Dukes? Jessica is not my inspiration, in any way, shape or form, but if she does end up signing onto a weight loss program, I would admire her courage. Usually, it isn't the pretty girls on the cover of Us Weekly who end up with a Jenny Craig endorsement, you know? If Jessica does do it, it's ballsy, and it could be a smart move.
Of course, if she does do it, she'll probably mess it up somehow. When you sign on for these endorsement deals, do you have to give the money back if you inhale an entire ham in one sitting?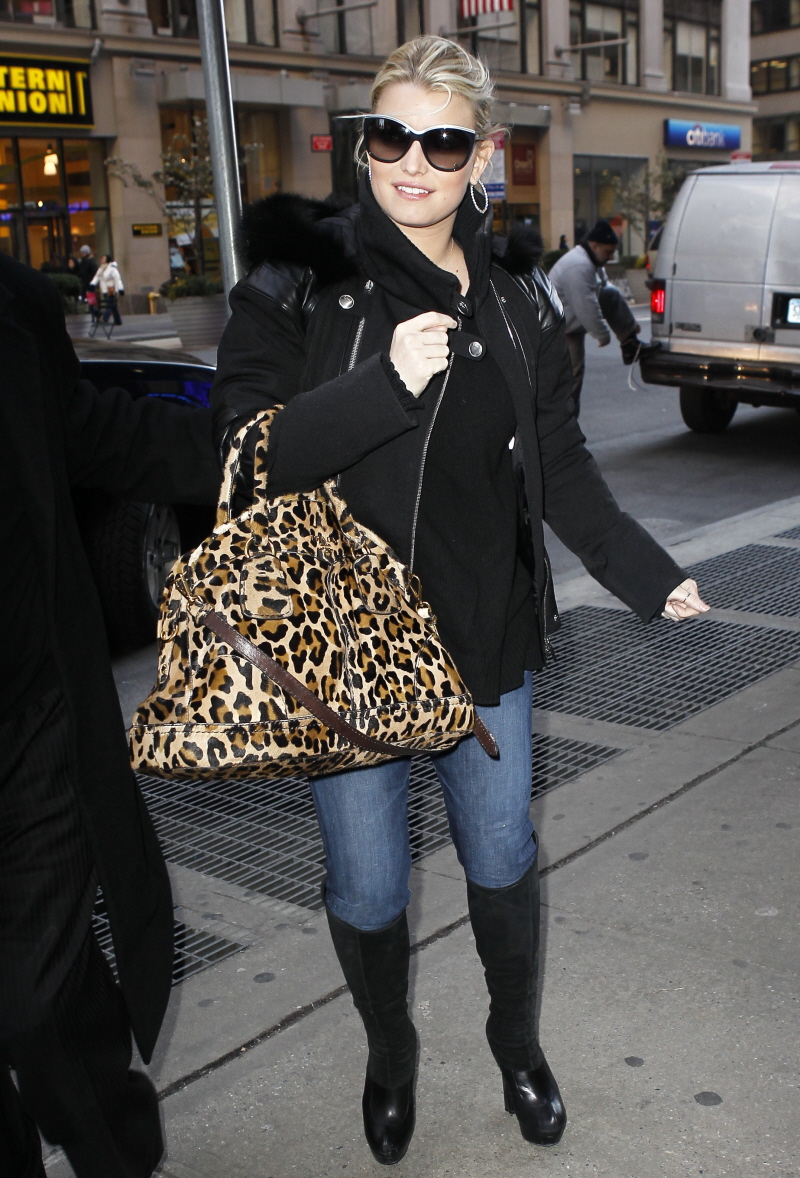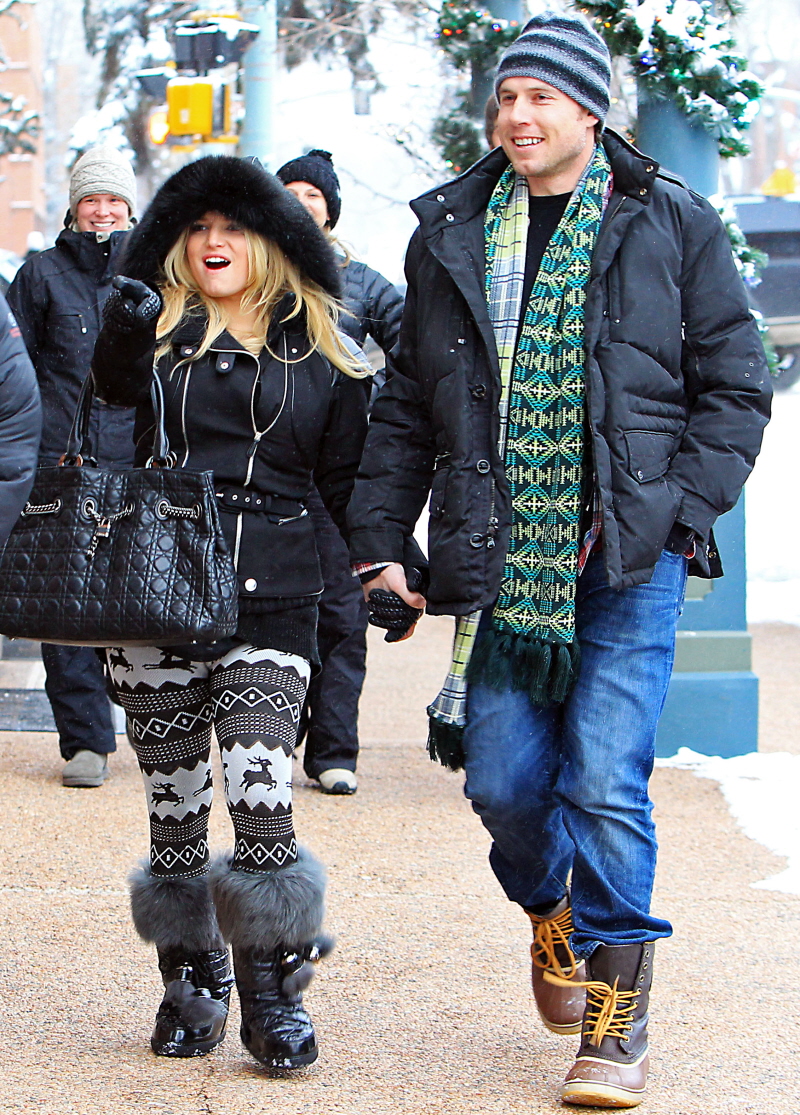 Jessica Simpson photos courtesy of Fame & WENN.