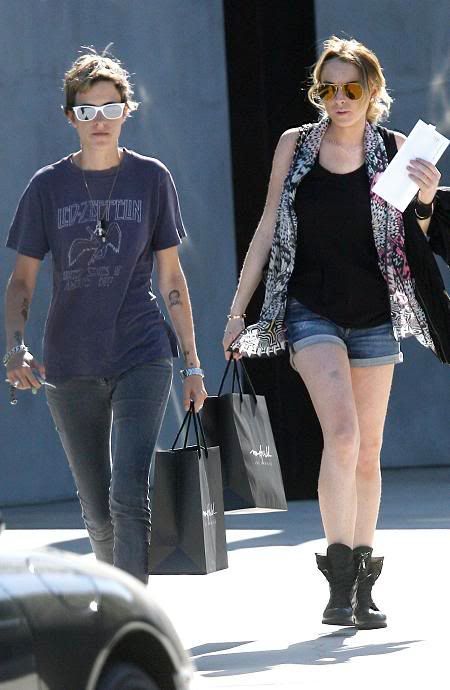 Nothing says "I love you" like needles, ink, and pain. It also says "This is going to last forever," and "there's no way I've just cursed our relationship" when you get matching tattoos with your beloved. So it can only be a good thing that Lindsay Lohan and Samantha Ronson have added versions of each other's ink to their own body art collections.
What's one way to cover up a former flame and simultaneously declare your ladylove? Color in an old tattoo and have your gal-pal get one to match, if you're Lindsay Lohan.

New pictures have surfaced of Linds and Samantha Ronson rocking identical small, black heart tattoos on their hands.

First acquired in July 2006 with then-beau Harry Morton, Lindsay's tattoo (on her left hand between the thumb and index finger) was white in color. She has since had the tat outlined with black ink, and Ronson has replicated the heart on her own left hand.

Quick to reciprocate, Lindsay has also turned up with one of Samantha's tattoos. Ronson has cascading red stars inked down her right arm, and now Lohan is showing off a red star on her right hand.
[From E! Online]
At least they didn't get each other's names. That's about the same thing as declaring "we're going to have a really bitter breakup in less than two months." I was thinking it seemed sort of early for the whole matching tattoos bit, but Lohan and Ronson have been together for at least a couple months. I guess this is an important relationship step some couples just have to take. Two of my friends got matching tattoos of Nerd candies on skateboards after they'd been dating for only six weeks, and now they're living together. Who says love is dead?
Here are Lindsay and Sam leaving Maxfields carrying matching shopping bags in Los Angeles yesterday. The last picture is a close-up of Lindsay's red star tattoo, taken last week in New York. Images thanks to WENN.