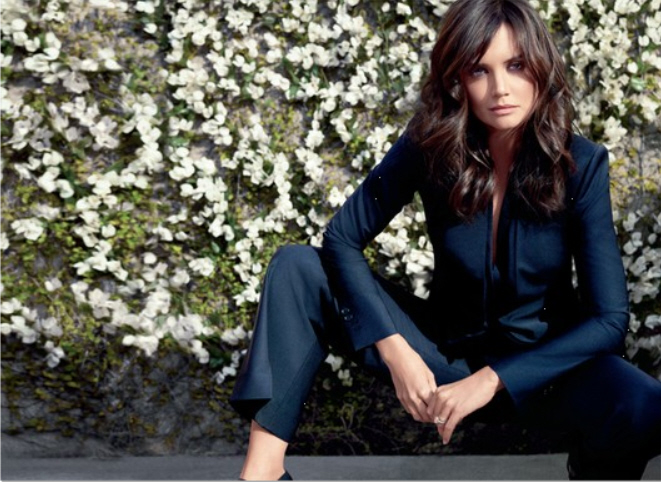 Katie Holmes is the new face of Ann Taylor! This is the first ad from what I hope will be a major campaign for Katie. Not that I think the ad is much of anything – the clothes look nice, but Katie looks like she's mid-stroke. I think that's her "look" though. She's going to patent it. Some go with "Blue Steel" and Katie goes for "Half My Face Is Numb". As far as whether it's wise for Katie to associate herself with the Ann Taylor brand… sure. I know Katie likes to think of herself as high-fashion, but she's not. She wishes she was business-classy like Ann Taylor!
Ann Taylor has confirmed that Katie Holmes will be the face of the company's spring 2011 ad campaign that will debut in March.

The images of Holmes wearing the brand's updated classics (think perfectly tailored trousers, sleek jackets and plenty of navy-and-white stripes) were shot in Los Angeles by famed fashion photographer Tom Munro. The spring line is modern and nautical-inspired, and there will also be bright yellow and green citrine-shade handbags and shoes featured in the ads.

"I've been a fan of Ann Taylor since I was a young girl — I grew up loving the clothes," says Holmes. "I'm thrilled to be a part of a brand I believe in."

Other celebrity fans of Ann Taylor include Naomi Watts (who appeared in the company's fall ads), Halle Berry, Rachel Bilson and supermodel Heidi Klum (who has been the star of the company's past two holiday campaigns).

This isn't the first time Holmes has posed for a major fashion brand. She appeared in J. Crew's catalog in the fall along with Josh Duhamel and her other The Romantics co-stars.

Holmes also appears on the cover of the current issue of Elle. The news of her Ann Taylor deal comes just days after History decided not to air her controversial series The Kennedys, in which Holmes was to portray Jackie Kennedy.
[From The Hollywood Reporter]
So… modeling seems like a nice way for Katie to supplement her income, considering she's not getting a lot scripts sent her way. And Katie Holmes: Model isn't that laughable. I'm just a sucker for a slim navy suit though.