Heath Ledger on the set of The Imaginarium of Dr. Parnassus on 1/18/08. Credit:
Kavi/WENN
When Heath Ledger died he left his final role in Terry Gilliam's film The Imaginarium of Dr. Parnassus incomplete. Actors Johnny Depp, Colin Farrel, and Jude Law were hired to take over Heath's role. It's a fantasy film set in a carnival and the actors will play different versions of Heath's character as he is transported through other dimensions.
Heath's will left all of his money to his father as it was made out before he had daughter Matilda, now nearly three, with Michelle Williams. Heath's father, Kim Ledger, has said that "Matilda will be provided for," but there's some controversy over his control of the funds. Kim's brothers accuse him of squandering over a million dollars when he was running their late father's estate and question his ability to manage Heath's money. Matilda's mom Michelle is certainly doing well for herself as a Hollywood actress and Matilda will probably never want for anything in her life. Now Heath's three co-actors have ensured that the little girl will definitely have part of her father's legacy – they've donated their entire salaries from the Imaginarium film to the toddler: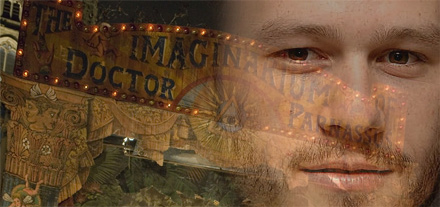 TERRY GILLIAM: The great thing about it is that when Heath died, and we have a character that wasn't finished in the movie, those three actors [Johnny Depp, Jude Law, and Colin Farrell] came along and saved the day. And so the character is now basically four actors creating one character. And that's . . . it's very interesting, and maybe even more interesting than it would have been with one actor going all the way through. I'm still not the best judge, because I have in my head what the film was going to be with Heath all the way through, and now there's a different film there. But all I know is, it's very funny.

Gilliam sounded proud of his film and genuinely awed by the generosity of the actors who came forward to save the picture and ensure its completion. Despite their high profiles, Depp, Law, and Farrell took no compensation for their work; instead, they donated their salaries to Heath Ledger's two-year-old daughter, Matilda:

TERRY GILLIAM: The three actors were totally heroic coming in. This doesn't happen very often . . . where there's a tragedy like this, and very famous, very successful actors suddenly say, "Okay, we'll do whatever it takes to help." They came; they did the work; they allowed the movie to be finished; they didn't take money–the money goes to Heath's daughter. That's extraordinary! And wonderful . . . and when you're part of that, you think, "Ah, this is maybe why I went into the movies, in the beginning. I thought it would be full of wonderful people. And in our case, we've got a movie full of wonderful people, who did extraordinary things to help.
[From video interview on Ischiaglobal-channel.com and published on Johnnydepp-zone.com via ONTD]
That's really nice to hear and is a wonderful gesture on the part of those three actors. It's especially gracious of Jude Law, because he hasn't had a lot of work lately and is said to be struggling financially relative to some of his millionaire peers. I like Law and would like to see him gain back some of the classic movie star luster he had when he was playing in The Talented Mr. Ripley.
The Imaginarium of Dr. Parnassus is due out in 2009.