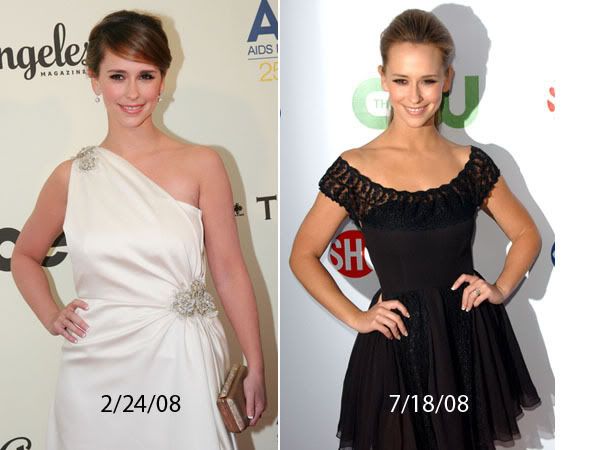 Jennifer Love Hewitt became the poster girl for gorgeous regular-sized women after a minor controversy over the fact that she doesn't look super toned or scary skinny. The 32 29 year-old Ghost Whisperer actress was photographed in a bikini in Hawaii late last November, with many outlets calling her heavier. The Daily Mail said she'd "piled on the pounds" while TMZ quipped "We know what you ate this summer, Love – everything!"
Hewitt wrote about how wrong it was for people to pick on her and to scrutinize women's bodies so rudely in the press, affecting many girls' self esteem. She said she loved her body and that it was shame people were focusing on that when there was happy news that she had just gotten engaged. She concluded "To all girls with butts, boobs, hips and a waist, put on a bikini – put it on and stay strong." She also wrote "A size 2 is not fat," but she was criticizing the media characterization of small women as fat, not saying that she was a size 2.
Hewitt looked pretty sexy and didn't need to lose weight by many people's estimation. She said at the time that if she did lose weight she would do it for longevity and health, not to fit some ideal standard.
Now she has lost weight and she looks great. She looked pretty hot before, but if she's happier this way more power to her. US Weekly reports in its latest issue that she's lost 18 pounds in under three months.
In the new issue of Us Weekly, on newsstands now, the 32-year-old [sic] shows off the new body she got after just 10 weeks and her trainer reveals to Us exclusively how she lost 18 pounds.

"I am in a pretty good workout regimen that I like, so it inspired me to keep it up," Hewitt tells Us. "The energy level and the way I feel now is great."

"With her, it's not, 'I want to look good in that dress,'" trainer Stevie Sant'Angelo tells Us. "She wanted to start moving around because she thought it would make her feel better.

"She told me, 'They said some rude, mean things, but that's not why I wanted to change,'" Sant'Angelo says.
[From US Weekly]
Hewitt is thought to be planning a small summer wedding with herfiance, Scottish actor Ross McCall. Maybe that's why she wanted to lose weight.
Whatever her motiviation, it sounds like she did it the right way and not by starving herself. I wondered why we haven't seen her in a little while and I guess now we have our answer.
Hewitt is shown in the header at the 2008 CBS/CW/Showtime Summer TCA Partyon 7/18/08 and you can tell she's thinner there. She is also shown at the Saturn Awards on 6/24/08. Credit: PR Photos.