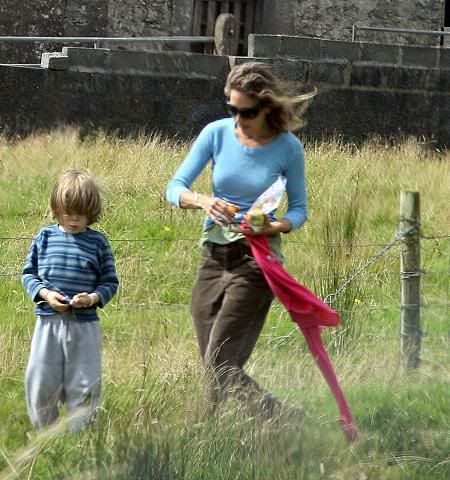 After their marriage was recently rocked by rumors of infidelity, Sarah Jessica Parker and husband Matthew Broderick took a getaway with their son James Wilkie. According to Fame, the family is vacationing in Ireland where they have a cottage. Supposedly the two don't really have a "conventional" marriage, and some rumors make it sound more like they're now friends that are raising their son together.
She's had a hit summer movie (Sex and the City) and a brush with scandal, and Sarah Jessica Parker is leaving it all behind with a trip to Ireland.

The Carrie Bradshaw actress was spotted along with her 5-year-old son James Wilkie and husband Matthew Broderick on holiday at Muckros, County Donegal, Ireland where they own a cottage.

Parker looked to be having a marvelous time, sporting a blue scoopneck top and brown trousers as she frolicked in the beautiful Irish countryside, far away from the tabloid rumors of her husband's affair.

Recently, Broderick's rep refused to address the unfounded claims that he'd had an affair with a woman 21 years his junior, telling press, "There will be no comment."
[From the Gossip Girls]
They've definitely stuck to that "no comment" rule. Which is driving me absolutely bonkers. But to their credit it seems to be working – when I googled the pair almost nothing new comes up since the affair rumor at the beginning of the month. It probably helps that they've gone overseas and away from the New York paparazzi, who were already following Parker with stalker-like zeal before the affair rumors. Here's Sarah Jessica, James Wilkie and Matthew Broderick today in Ireland. Images thanks to Fame.