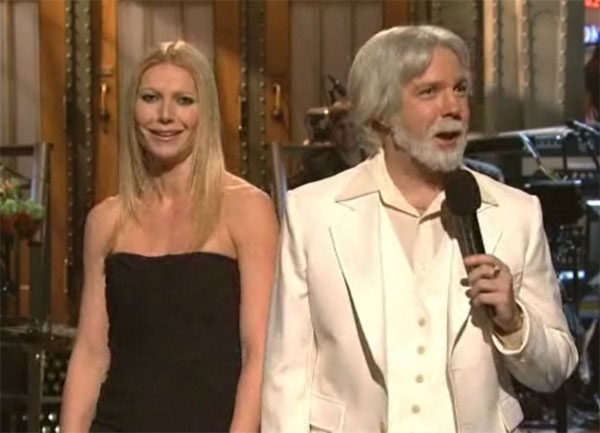 The Goop's big gig hosting Saturday Night Live got overshadowed by the Golden Globes the next night, which she didn't attend. I wouldn't have been surprised to see her pinched face presenting something, but she was probably busy baking cupcakes for a bake sale or feeding her children flax oil. I'm not a big fan of SNL and I find that the bits run on too long with too little payoff in terms of humor, but Gwyneth wasn't bad. She can act and she's good at doing comic bits, as we saw on Glee. I think she could find a home on television in some kind of thinly veiled sitcom that panders to her need to seem like a do-it-all supermom. Maybe she could even poke fun at herself. She did some of that on SNL and it served to humanize her a little. There was still the stench of try hard about her, which has pretty much characterized her entire press tour for the poorly reviewed and little seen Country Strong. (I'm pretty sure I jacked that opinion from Lainey.) Anyway they opened the show with a duet with "Kenny Rogers" in which she pretended not to know the words to Islands in the Stream. Cee-Lo Green came out and joined in, but the much anticipated "Forget You" duet never happened.
Gwyneth played a snooty socialite in the next spoof of a 50s game show. She had a couple of funny lines.

And in another bit Goop played Taylor Swift performing at a Bah Mitzvah. She exclaimed "I'm a foot taller than the tallest guy here" and proceeded to sing a Jewish-themed You Belong With Me.

Then Gwyneth played a record executive who used creative substitutions for swear words. This bit was a dud.

As a "songwriter" to Garth and Kate, Gwyneth was just as annoying and cringe worthy as those two. I guess that's the point but I didn't get it.

Then The Goop got her bitchface on to play a Spanish announcer on Sports Center. You know this was her idea, since she showcases her Spanish language skills at every opportunity. The whole gag involved them sounding Spanish until they had to pronounce English words and phrases, during which they used heavy American accents. It was dumb except for the faux commercial, which cracked me up.

In the last bit she played Heidi Klum hosting a show with Eliot Spitzer and put on her default smug face again. She did an ok impression of Heidi but this wasn't funny.

Verdict: Try hard as usual, but not bad. She should be on TV.
I also have to include this digital short with Andy Samberg and PeeWee Herman. It was clever and included a cameo by Anderson Cooper. This was the best part of the show.