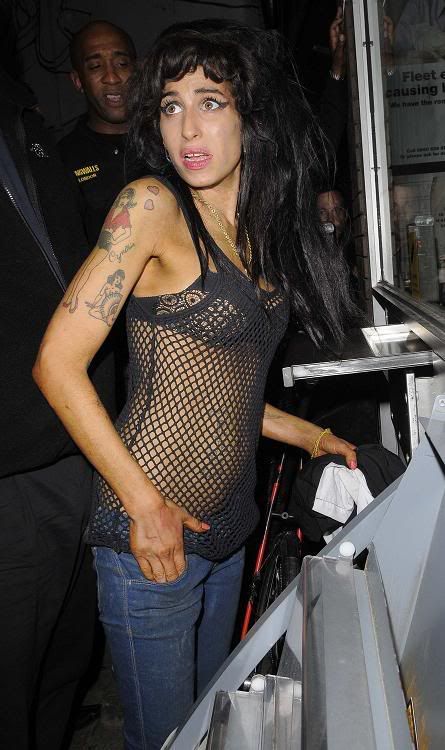 The Amy Winehouse downward spiral continues. Who knew a spiral could last so long? At this point Amy's downfall defies the laws of time, physics, and space. Or a bunch of other scientific words I don't really understand. Either way, I know it's pretty rare for something to actually be endless, and that appears to be what's going on with Amy's slow demise. Just when you think she's hit rock bottom and she'll either die or clean up, she proves you wrong and shows you there's a whole other level of drunken misbehavior to be glorified.
Amy has now physically attacked another seemingly well-meaning fan. For what appears to be no reason. The fan reached out to touch her while passing on the street (in a seemingly worried or comforting gesture) and Amy slapped the woman, then proceeded to curse her out.
Pop wreck Amy Winehouse has swung out and hit again. The aggressive British star lashed out at an innocent fan on a London street Thursday night. This time the troubled "Rehab" singer gave a hard slap to a middle-aged, female Samaritan who had reached out for her, crying out "Let f***ing go of me, d***head."

The victim apparently grabbed Winehouse as she walked by, seemingly to express concern for the ailing singer's health, reports Britain's The Sun newspaper. Winehouse, 24, was diagnosed with early-stage emphysema in June. This small gesture resulted in Winehouse's unprompted attack. Even as she walked away, the singer could be heard calling the woman a "f***ing bitch."

Wino's first wallop, this isn't: Earlier this year, she punched a fellow bar patron in a London pub, seemingly unprovoked. "I hadn't said a word to her or touched her," the victim, Wayne Lindsay, told Britain's Daily Mirror. In addition to various rehab treatments for her heroin addiction, isn't it time Winehouse started looking into anger management courses?
[From the Daily News]
I'd say it's time for the British courts to start getting involved, but I think we've all seen from Pete Doherty's case that that's an utter waste of time and money. Amy's family seems to constantly be walking this fine line between supporting her and calling her out for her misbehavior. The singer used to love her fans, who would often show up at her door unannounced. She'd chat with them and sign autographs – how many celebrities can you think of that would do that? It really says something about her massive issues that her personality has changed so dramatically.
Here's Amy last night in London with her god daughter and four burly security guards. One of them was hitting photographers, knocking several to the ground. WENN reports that along with the face slap, Amy was in a bad mood after having been told at a gas garage they had no playing cards to sell her, threw a pint glass at a photographer, and swore at people in the street. Nothing good can come from leaving the house wearing that top. Images thanks to WENN.