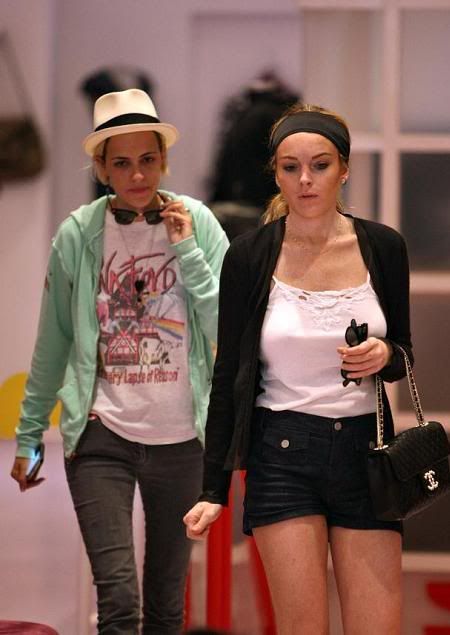 As cute as they are together, it appears that some cracks are starting to form in the Lohan/Ronson lovefest. Since they started dating several months ago Lindsay seems to have really calmed down and isn't nearly as drunk and belligerent as she used to be. She'd still probably be considered a bitch compared to the average person, but for Lindsay Lohan she's been doing pretty well.
All that said, I don't think anyone ever thought she's actually gay. Bisexual maybe – or maybe just experimenting. A lot of people do that in college. I don't think Lindsay even graduated from high school, but she's college-age and still at a time in her life where she might be figuring things out. And if you believe OK! Lindsay is figuring out that she's still into men.
Lindsay Lohan and Samantha Ronson may be inseparable, but following weeks of arguments, friends tell OK! they fear that Linds will leave her DJ girlfriend — for a man. Apparently LiLo has already been flirting with guys, and cracks are seem to be appearing in the relationship.

On August 5 at the Delano Hotel's Florida Room, Lindsay, 22, cozied up to other men whenever Sam left her side. "Lindsay was laughing and giggling with these guys," an eyewitness tells OK!. And earlier that day, guests at the Miami hotel witnessed the couple's repeated clashes.

"Lindsay is the aggressive one in the relationship," an insider tells OK!. "Sam tries to focus on Lindsay, but it's never enough." Another friend adds, "Lindsay has to be the center of attention, or she'll flirt with other guys to make Sam jealous."

But back in L.A. on Aug. 6, the pair were "hand in hand and very affectionate" at Crown Bar, and on Aug. 8, they partied for Sam's birthday. But Lindsay's friend says, "She'll be with the next guy who catches her eye — she can't help it!"
[From OK! Magazine]
I think Lindsay's calmed down not because she's with a woman, but because of the type of person Samantha is. Theoretically if she were able to choose guys that were good for her instead of losers, she might be able to sustain some of the improvements she's made in her life. LiLo and Sam are really cute together, and I hope they don't break up. But if they do, I'd still bet the odds of Sam selling her out to the tabloids are a lot smaller than any guy Lindsay's ever dated.
Here's Lindsay and Sam out and about in Manhattan on July 28th. Images thanks to Fame.