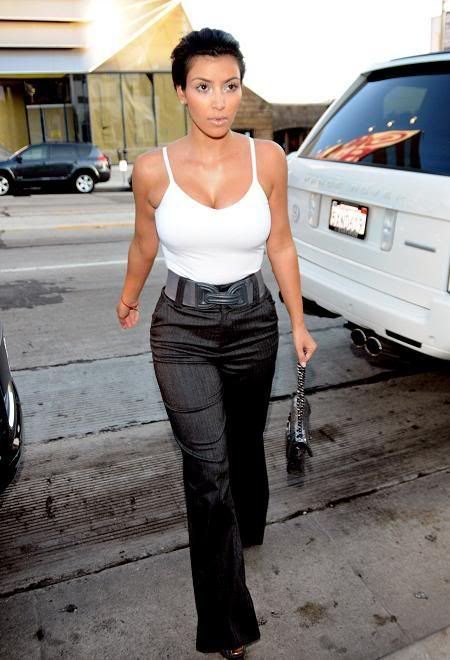 Say it ain't so! Kim Kardashian is trying to lose some of the junk in her trunk. Again. Kim is on a health kick and is working her ass off – literally – to shed some pounds. She's also been looking a little more natural and wearing less makeup lately – and I think she looks a hell of a lot better for it. I never realized how pretty she is until she stopped caking on the eye makeup.
Though boyfriend Reggie Bush supposedly wanted Kim to trim down her cheeks a few months ago, it seems like she's doing it for herself.
"I love that I'm curvy, but I'm on this major kick to try and lose weight, especially in my butt," she tells Radar magazine. "I'm just so over it! When you're posing on the red carpet and the paparazzi shout, 'Turn around! Turn around!' — it gets a little offensive."

Kardashian, 27, denies rumors that she's had butt implants. "I've seen magazines where plastic surgeons are saying, 'If you want a butt like this it has to be fake,'" she says. "I'm just like, 'Dude, have you ever seen an Armenian girl before?'" Earlier in the year, Paris Hilton blasted Kardashian's booty, saying it "reminds me of cottage cheese inside a big trash bag."

"Wasn't that nasty?" Kardashian responds. "She called and apologized, and I accepted her apology. She said she was joking. I kind of laugh it off, like, 'You know, I've never denied having cellulite.' Everyone's entitled to their own opinion. If she thinks my butt looks like that, I don't really care," she goes on. "At least I have a butt."
[From US Weekly]
This story surprised me a little because Kim actually came off as nice and relatively classy – at least for a Kardashian. She handled the Paris thing with a lot of grace, without giving some bullshit response like, "She apologized and now we're best friends." She acknowledged it was rude despite the apology but didn't dwell on it or start a feud.
As much crap as Kim gets for her butt, I think she looks great. But then again I don't even have one. Some people have washboard abs; I have a washboard ass. I'll gladly take whatever she doesn't want.
Here's Kim taking a break from her quest of getting into "movie-star-shape," yesterday. Header of Kim from August 4th. Images thanks to Fame.