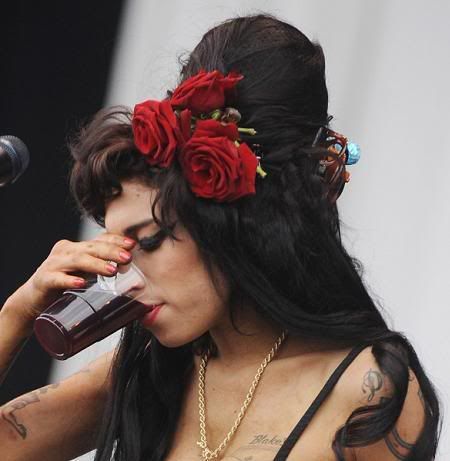 Amy Winehouse –who TMZ just referred to as a "medical oddity" – continued her confusing jaunt up and down the ladder of sobriety and sanity this weekend. She gave two performances – one where she looked more hobotastic than ever before, and another – a mere 24 hours later – where she looked like a pre-fame classic, healthy Amy. The difference was so astounding that you would have sworn the pictures were taken at least several months – not hours – apart.
The singer's face was locked in a grimace, and she looked in some pain as she walked to her Camden home from her car at around 1.30am in the early hours of this morning. Amy's appearance was in contrast to the groomed and glam singer who hit the stage at Hylands Park in Chelmsford, Essex yesterday. Especially as just 24 hours later a dishevelled Amy was clad in rolled-up jeans, a skimpy vest and headscarf, and kept the crowd at Weston Park, Staffordshire, waiting 15 minutes before taking to the stage.

Despite her revived appearance in graphic print mini-dress and fresh blooms in her hair, Amy was still smarting from the boos her Saturday night performance had earned her. Her stuttering performance saw hordes of fan stream away from the main stage. She told the crowd: 'You're a really nuts crowd. I'm not on drugs, honest. So boo you guys for yesterday.'

Gone was the dank hair, listless eyes, worn skin – and boos from the crowd. Instead fans were treated to a vibrant performance. Just 24 hours earlier, she had been sallow-faced and grubby with dark smears of make-up around her eye. She coughed and spluttered her way through the set, forgetting the words to Back to Black and mumbling to herself between songs. The 24-year-old dedicated Wake Up Alone to husband Blake Fielder-Civil, who is serving a 27-month prison sentence, which prompted a smattering of boos from the crowd.
[From The Daily Mail]
The Daily Mail's comparison of the two performances was written in their classically terrible and confusing style. Just know that whenever they're saying something bad they're talking about Amy's Saturday performance, and whenever it's something good they're referencing her performance on Sunday night (with the exception of her appearance on the way home that night). They needlessly bounce back and forth and make it almost impossible to sort through what's what, and it's even more confusing when you read the article in its entirety.
Suffice it to say Amy Winehouse looked like a wreck, and then looked alright, and then looked like a wreck again. No big surprise. Fox News reported that Amy looks even worse close up, noting, "bits of her dry skin were 'flying off around the bar as she danced,' a mole reveals. 'She should be in hospital not alone in a sleazy bar.'" Gross. But totally Winehouse.
The first set of photos (with Amy wearing the black and white checkered top) is from the V 2008 Festival on Saturday in Stafford. Photographer: Nick Pickles. The second set of photos (wit Amy wearing the dress) is from just one day later at the concert in Chelmsford. Images thanks to WENN.