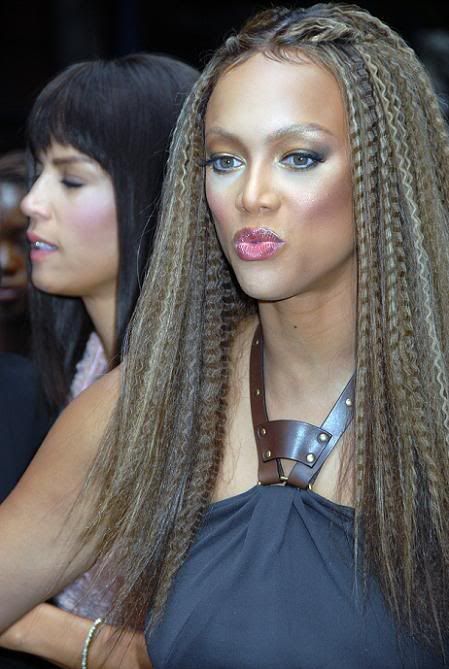 Tyra Banks' blatant narcissistic personality disorder rages on, according to Page Six. They more politely call it "diva behavior" but I think it's pretty clear Tyra is walking a fine line between total bitch and complete personality disorder. Tyra is continuing to annoy the living daylights out of her guests and audience with her blatant "it's all about me" behavior.
Tyra Banks' diva behavior has reached ridiculous new heights. The model/talk-show hostess kept her "Tyra Banks Show" audience waiting for nearly two hours at her West 26th Street studio Tuesday during a taping of "Celebrating Black Models, Past, Present and Future," while she stood backstage giggling, snacking and chatting with the crew.

"You could hear her going on and on because she was standing right behind the stage curtain," said one audience member. "She's talking and talking. Meanwhile, you have the entire audience waiting almost two hours for the taping to start." And our spy said when Banks finally did take her seat onstage, she had a bad attitude. "She leaves us waiting, and everyone is sitting there complaining, and then she comes out and doesn't say a word about it. She didn't even say hello, she got right into her script," said our source. "She acted so cold towards everyone. She's a phony."

Another audience member told Page Six the crowd was full of aspiring models who were dragged into the street by Banks for a shoot after she'd interviewed Beverly Johnson, Veronica Webb, Chanel Iman and Tameka Jacobs. All along, "Tyra kept saying, 'When I was a model,' and would hardly let them talk," said our spy. "It was all about her, as usual."

Banks then led the whole audience outside onto the street for the show's ending. "Cops had it closed off, and Tyra had bodyguards," laughed our spy. "She had the audience prance down the street and then release black balloons. Some were whining that it was so bad for the environment.
[From Page Six]
I'm sure there are a lot of celebrities that are full of themselves –in fact you could argue that it might be a necessary trait in order to be successful in show business. But Tyra manages to take it to completely unheard of levels. There is no bad behavior the woman can't legitimize to suit herself and nothing she won't do to further her career. Even something that seems like it's not that big a deal – like the balloons – shows how it's all about her. I can think of dozens of other dramatic looking things she could have had the models do – but what does the earth matter if Tyra's not happy when she's on it?
Here's Tyra with models Jessica White, Selita Ebanks, Pat Cleveland, Toccara Jones, Veronica Webb, Chanel Iman, Beverly Johnson, Noemie Lenoir and Stacey McKenzie for 'The Tyra Banks Show' "Celebrates the First All Black Model Issue of Vogue Italia" – along with the infamous balloons – in New York on Tuesday. Photographer: Patricia Schlein. Images thanks to WENN.