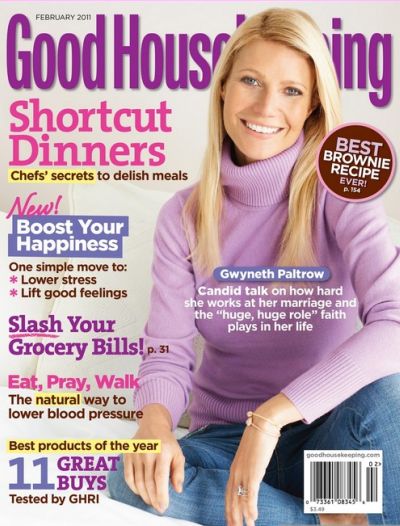 Good Housekeeping has put their entire interview with Gwyneth Paltrow, who graces the February cover, online. (Thank you, GH!). We've heard some advance quotes from the piece, but this is the first time I've had a chance to read the full interview. She was promoting that dud of a movie, Country Strong, and it's a lot of what we've already heard from The Goopster. She talks about how she's such a great do-it-all mother and how her life philosophy helps her excel in areas of life the rest of us just coast through. The cracks do show in her marriage, though, and for as much as she goes on at length about her kids she'll only speak reluctantly about her husband, Coldplay singer Chris Martin.
On "mindful" parenting
I've learned so much from being a mom about the kind of person I want to be, the kind of woman I want to be. Motherhood has taught me mindfulness. If you just parent on instinct, you'll screw your kid up for life. You have to be so mindful.

On teaching her kids responsibility
I'm in a battle right now because Apple doesn't like to go to gymnastics. When she's crying about it, I just want to scoop her up and say, 'Forget it. Let's go get an ice cream.' But you can't do that, of course. That's something my father taught me. You need to be accountable, and you need to be responsible. You need to honor your commitments

On her marriage
Oh, Chris hates when I talk about him… If I'm looking grumpy in public or if Chris and I leave a restaurant separately, it's only because we don't want to encourage photographers.

Marriage is hard. Chris and I have had our ups and downs, big-time. Marriage is way more complicated than just 'Who gets to control the remote?' But hopefully we keep heading in the same direction and getting through the obstacles.

I'm a good talker… I definitely have to coax things out of him when we talk. You know, he's British, so it's a different lexicon totally. But you have to communicate. Otherwise there's no relationship.

On how Chris helped her learn guitar
It was so much fun to pick up a new skill. I can be a perfectionist, so I really practiced. And between Chris's help and the director needing me to be prepared, I was totally ready when the time came.
[From Good Housekeeping via Huffington Post]
These comments by Gwyneth about how Chris taught her to play the guitar completely contradict an earlier interview she gave (also after completing filming) about how Chris couldn't be bothered.
There's much more of Gwyneth's interview on the Good Housekeeping site if you're interested and have a strong stomach. She's working so hard to convince us that everything is fine, and that her strong work ethic and spiritual ethos enable her to be this know-it-all supermom who powers through daily trials with two kids and a reluctant husband who require her prodding guidance to bring out their best. She's just like us, only more enlightened. Only it's clear that her constant editorializing of her life is a kind of coping mechanism for dealing with the same bullshit that most of us have come to terms with. Who is she trying to fool, herself or us?
Photos below are from 1/17/11 credit: WENN.com