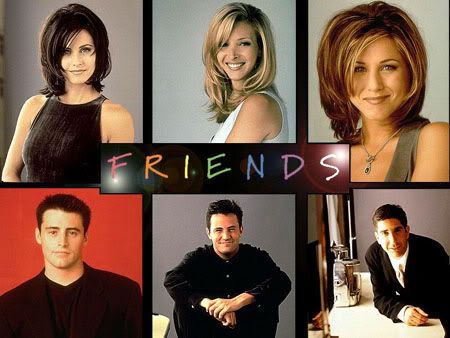 The NY Post's Cindy Adams reports that a long-rumored "Friends" reunion is now in the works, and that holdout Jennifer Aniston finally agreed to it:
JENNIFER Aniston, and whatever reason changed her mind, who knows, finally OK'd a "Friends" reunion. The primary holdout, she, now, for whatever reason, who knows, has agreed to it. Everyone's thrilled. It's big bucks for the whole bunch. Jennifer always loved the show's Thanksgiving episodes – for whatever reason, who knows – so she's encouraging the script to be something Thanksgiving-y, or at least to center around that holiday. Please, no remarks about a turkey.
A while ago it was rumored that Lisa Kudrow said that "one of the guys" was holding up the reunion after Kathleen Turner let it slip that she was approached to reprise her role as Chandler's mom, but then Kudrow denied that a reunion was in the works.
Now that Cindy Adams has reported it, it's probably true, and I can't wait! I love that show, although it's hard to watch now that I have such a poor opinion of Aniston. She must have realized how much she owes to "Friends" and maybe she'll be grateful to the show for making her famous.