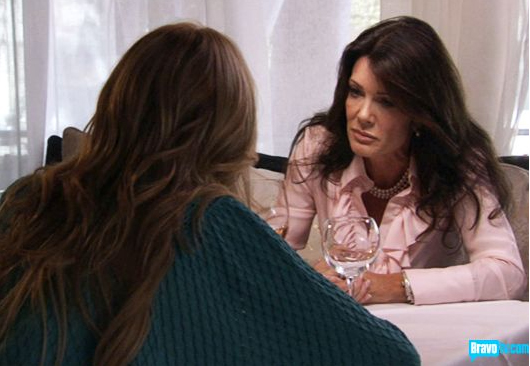 This week really disappointed me in that the fights crossed over from fun and bitchy to personal, attacking and heart-wrenching. The major fight between Kim, Taylor and Kyle felt false to me in that Lisa instigated it somewhat and I suspect that producers put her up to it. I do believe that the fight was real, and that the women were genuinely upset and angry, but I think that producers stirred that pot and took it too far. When Kim and Kyle finally had a blowout at the end it made my stomach turn and I found it way too mean and personal. There's a difference between women being bitches to each other and sisters using their mom's death to attack each other.
Lisa becomes an instigator
Last week there was an opening segment with Lisa telling Kyle that she was jealous of her friendship with Taylor and thought Taylor was responsible for the big screaming match in New York. This seemed totally unlike Lisa to me, because up to this point she'd told everyone to put New York's issue behind them and to move on. For Lisa to suddenly be possessive of Kyle and to have lunch with Taylor this week and get all bitchy with her just seemed like a planned plot twist. Up until this point, Lisa has never been like that and has always been above all this pettiness, yet all of a sudden she's setting up the big blowout fight for the season finale. I didn't buy it. Yes Lisa told Taylor to make up with Kim, but she knew that wasn't going to happen and she prodded Taylor about the reasons behind Kim's fight with Camille. It seemed so bitchy, manipulative and unlike Lisa.
Then, when all the ladies were done fighting at Taylor's party, Lisa told Kyle to "go and sort it out" with Kim. She had an agenda to keep the fights going and she pushed it.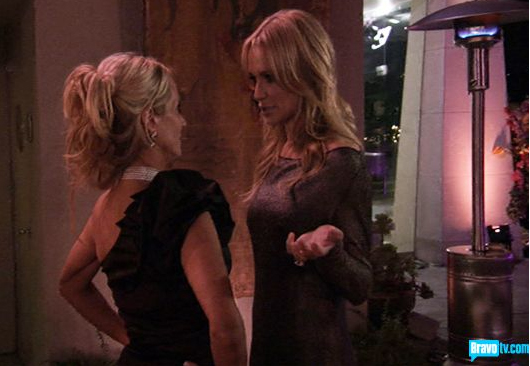 I don't want to get into all the back and forth drama of the main fight at Taylor's birthday party. It was still about that bullsh*t with Camille in New York and what Taylor and Kim did or did not say and whether Kim did or did not support Kyle during the fight with Camille. Maybe if Camille were there they all would have focused their negative energy on her instead of fighting with each other. She's like a lightning rod that keeps the other women from infighting.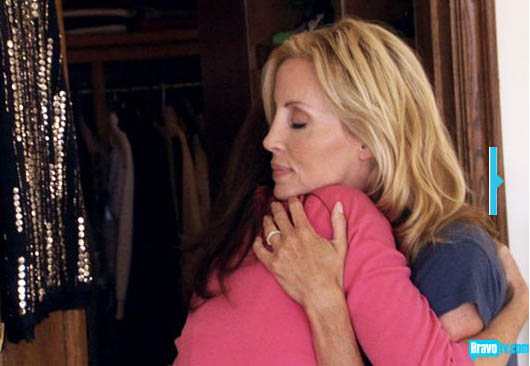 Camille learns about the other woman: "You're not Mrs. Grammer"
Camille really seemed wounded this week, and we got to see her cope with the fallout from her husband's affair. The way she found out was devastating and sounds like a cliche. She told the doorman at Kelsey's NY apt she was Mrs. Grammer and the guy looked at her weird and said "no, you're not" and made her show her ID. She realized then that another woman was living with him in New York.
She broke down to her friend DD about it, but instead of calling out Kelsey for being a cheater she blamed the other woman. "Whoever this is, does she not know that she's destroying a family?… She's destroying my children, they're going to be just devastated without their dad."
Camille also said that Kelsey kept her under his thumb and tried to control her during their marriage.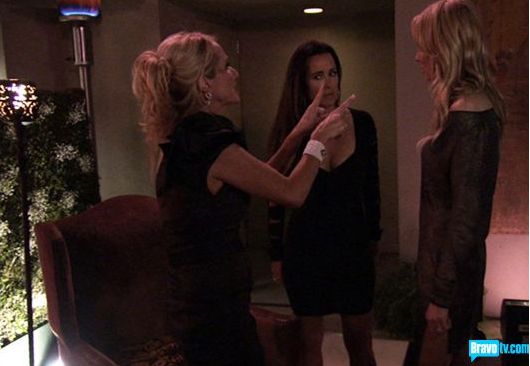 Kyle and Kim: sisters don't fight fair
Again, I don't want to get into too many of the asinine details of the fight between Kyle and Kim, but I'm starting to see the bullying dynamic that many of you have mentioned where Kyle treats Kim like crap. Kim tries to give it back to her though, and it's just so difficult to watch. Kyle whined to Adrienne after the fight that "[Kim is] alone for a reason because of her crap. I have so much resentment. I feel like my mom died worrying about her, and now I have to worry about her and her stress and all her crap that I can't talk about, because I keep it in and I'm trying to protect her by not talking about it, and I'm sick of her." Kyle narrated later "[Adrienne] doesn't know what I've been through. Nobody knows." Adrienne told Kyle to get therapy with Kim and then Kyle stormed off looking for Kim to lay into.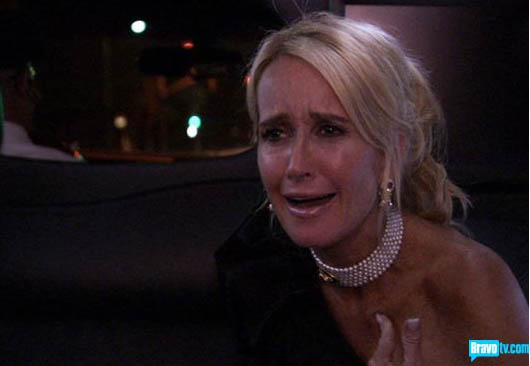 Kim tried to leave but Kyle had one of her helpers call the limo driver to tell them not to let her go. Martin tried to help Kim in the limo, and then Adrienne came to give her some counseling and smooth things over. Adrienne agreed with Kim that she was being targeted by the other women. Then Kyle jumped in the limo and Kim said "I don't want you that close to me."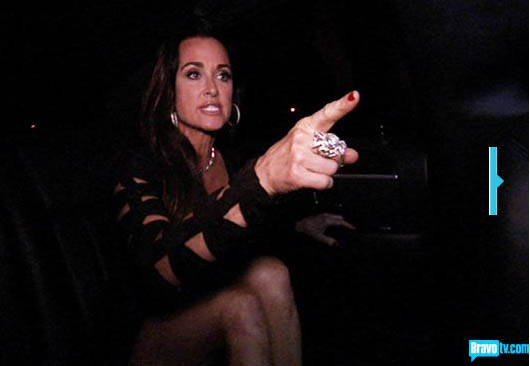 Kyle really lit into her "Are you kidding me, Kim? Do you realize how insane you sound saying that?"
Kim "I don't trust you. What you did tonight was unforgivable."
Kyle "I didn't do anything Kim. You act like an insane person. I'm so sick of your crap, everybody is. Everybody's sick of what you put us through. And here you are again with all your antics again and all this drama. Causing a whole big scene tonight at Taylor's party."
Adrienne told Kim to tell her what she felt. Kim said "Taylor came over to me… within seconds there's Lisa, there's you. It was so unfair Kyle."
Kyle "I walked up in the middle of a conversation. I heard my name and I walked up."
Kim "I've always had your back."
Kim called Kyle a "f*cking phony" and then Kyle got even more bitchy "You need to get help. What are you doing?… Mom had to die worrying about you and stressing about you and leave this shit on my shoulders, after everything I've done for you."
Kim "You stole my goddamn house!"
Kyle "My husband has helped you every month and stood by you and taken care of you like you're a second f'ing wife. So f'ck you for talking like that."
Kim "Liar"
Kyle "You better take that back right now" (climbs over to Kim). "You are a liar… and an alcoholic."
Then Kyle climbed out of the limo and said "Kim, I want you to know right now. Anything we've ever helped you with is over. You're on your own now."
What happened next
At the end of the show there were captions that let us know what happened in the following weeks, and those were probably the most interesting:
Km and Kyle went weeks without talking… Their kids are now trying to broker a truce between them
As Cedric was moving out, he and Lisa had an explosive argument… They haven't spoken since.
Snowball is happy in his new home… But Taylor continues to struggle in her current one.
Adrienne and Paul are still the Bickersons… Adrienne insists she's not responsible for Paul's multiple broken noses.
Kim's family checked her into rehab… A week later, she checked herself out. She is taking her life one day at a time.
Camille is living in Malibu, fighting for custody of her children… Kelsey is in New York, engaged to a 29 year-old flight attendant.
I still don't like Camille, but after seeing how Kyle treated Kim this episode, I think Camille might have been right about Kyle being a conniving piece of work. It takes one to know one.