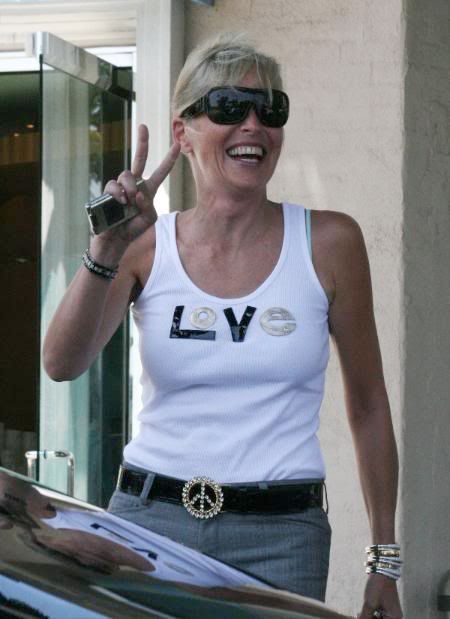 Sharon Stone is a lady I would have always described as a cougar – long before she started dating a 24-year-old. There's something about her long nails, penchant for fur, and generally abrasive personality that says, "I eat living creatures for snacks – and I prefer it that way." But now it turns out Stone is the other kind of cougar – the kind that dates ridiculously young men as some sort of status symbol. Luckily for the poor fellow in question, it doesn't sound like it's too serious on either side.
Sharon Stone's current love interest is half her age — and that hasn't stopped him from bragging about her to all of his friends. "I've started dating Sharon Stone, and she's pretty good for 50," Chase Dreyfous, 24, told his pals at a birthday party at Crown Bar on August 8 in LA.

"Sharon called him and he showed the caller ID to everyone," adds an insider. The unlikely pair, who met in early July while working together on Sharon's charity, Planet Hope, were first spotted getting cozy at a party thrown by fashion designer Christian Audigier on August 2 in LA.

"She's really into him and even asked him to come with her to Mexico," the insider says. Sharon was married to media mogul Phil Bronstein for six years before they divorced in early 2004. Chase and Sharon stepped out at Christian Audigier's "white party," which was held to celebrate the birthday of Christian's wife, Ira.
[From In Touch]
Yeah, she's pretty good for fifty because she drinks the blood of three twelve-year-olds in a fruit-based cocktail every morning. I'm telling you Chase, be wary. I am absolutely certain she's just watching over you before she bites into your neck. Calling Sharon Stone a cougar is easily the nicest thing anyone's ever said about her. There is no way that woman is as maternal and loving as a cougar would be. She's not even as kind as a black widow spider. If she tries to get you take out a life insurance policy with her as the beneficiary, run. I've seen all this in Lifetime movies, and I'm telling you now, it's not going anywhere good.
Who wouldn't want to date this fine thing? Here's Stone on Friday. Images thanks to Fame.