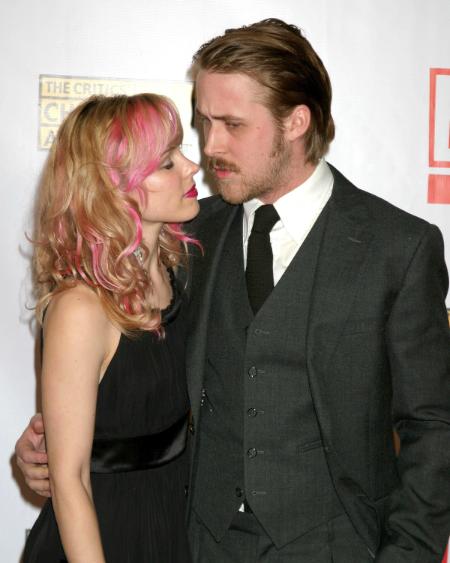 Ryan Gosling and Rachel McAdams – who were named cutest couple ever (by me… very prestigious) have gotten back together! Cue hysterical girlie shrieks! It's hard to say why these two were so adorable together – somehow they just seemed to fit. And they were pretty low key – you'd never accuse them of courting the paparazzi, but they also didn't seem the type to get married and then never deny it (something only jerks do, in my still unchanged opinion).
Gosling and McAdam's friends confirm that the two are dating again after breaking up around March of 2007.
On again! Ryan Gosling and Rachel McAdams have gotten back together, a source tells Usmagazine.com. "They've been talking a lot," a source tells Us. "Their friends are quite pleased that they're getting back together and are trying to give them space."

McAdams recently made an appearance at Gosling's weekly deejay gig at Green Door lounge in Hollywood. The two began dating shortly after wrapping their 2004 romantic film The Notebook.

"She's inspired me to do so much," Gosling told reporters shortly before their 2007 split. "She's the most discerning person I've ever met. She'll read a script 100 times. She's relentless."

After they called it quits, Gosling told GQ that women were "mad" at him. "A girl came up to me on the street and she almost smacked me," he said. "Like, 'How could you? How could you let a girl like that go?'" Of their split, Gosling said, "The only thing I remember is we both went down swingin' and we called it a draw."
[From Us Magazine]
When they broke things off it was supposedly because Gosling "needed some space." Apparently a year and a half was enough space. Hopefully they'll make it this time – the obviously managed to stay on good terms.
Here's Rachel and Ryan at the Critics' Choice in January 2007. Images thanks to WENN.