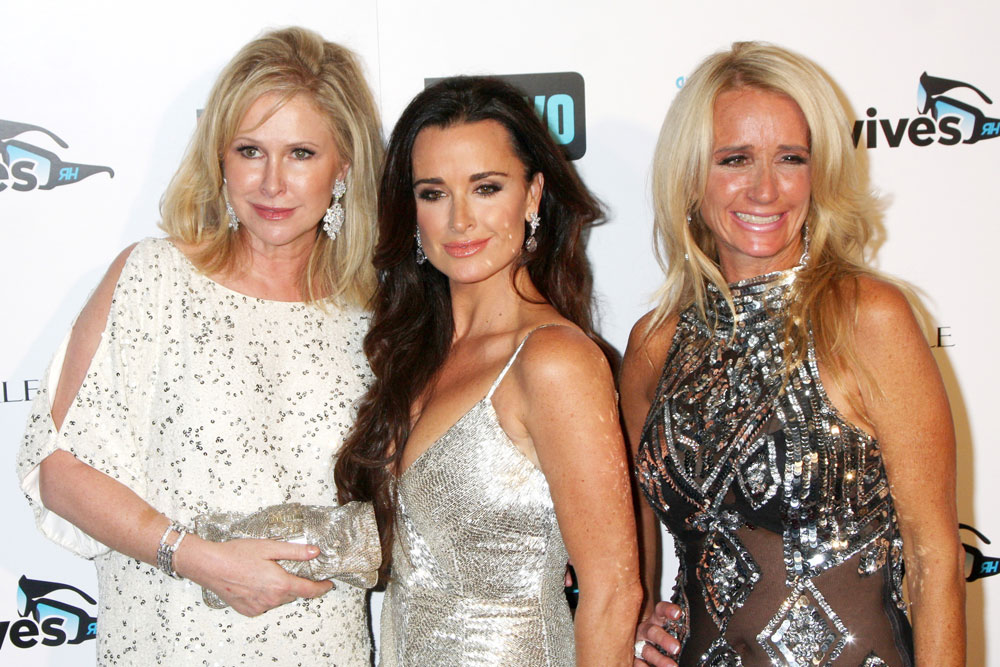 Kathy Hilton (Paris' mom), her sisters Kyle Richards and Kim Richards
We saw Kyle Richards light into her sister on Thursday's shocking and uncomfortable-to-watch episode of The Real Housewives of Beverly Hills. Kyle called Kim an alcoholic, repeatedly called her "insane" and told her that she would cut off all support that she and her husband, Mauricio, were giving her. Kyle also got way too personal and brought up their deceased mom. "Mom had to die worrying about you and stressing about you and leave this shit on my shoulders, after everything I've done for you." The thing is, Kyle pursued Kim to continue an argument with her after Kim tried to leave Taylor's party. Kyle made sure the driver didn't let Kim leave, and went down there with the sole purpose of berating her sister. It was mean and bullying, no matter how much of an addict Kim is or what the backstory is between them. When you have a fight with family you step away from the situation and come back when you are ready to make up. That strategy makes for better family relations, but not better reality TV I guess.
Now Kyle has issued a statement on that fight, but despite some inaccurate headlines about it she never apologized for what she said to her sister. She just said it shouldn't have happened that way:
It shouldn't have gone so far – or become so ugly.

So says Real Housewives of Beverly Hills star Kyle Richards of her nasty blowout that left her on the serious skids with sister Kim in the season finale.

"The events that transpired that evening were quite unfortunate and should never have occurred on or off camera," the reality star, 42, said in a statement released Friday by Bravo. "There are a lot of elements to the story that viewers didn't see."

She adds: "This has been difficult for our entire family as we both said and did things that we regret. My sister and I love each other very much we want to move forward and put this behind us."

In the clash in a limo, Kyle called her older sister, 46, an alcoholic and threatened to revoke any aid – apparently financial – that she and her husband provide. Kyle also said she'd stop covering for Kim amid allegations of alcohol.

Kim and Kyle will discuss the matter further in a reunion special hosted by Andy Cohen on Jan. 27 at 9 p.m. on Bravo.
[From People]
I might not be as informed about this fight as some of you as I watch this show on iTunes and don't have access to the after-show commentary. Kyle has a new blog entry up about the fight and what went on, and it's pretty much the same sentiment from her – we don't know went on with their family or behind the scenes and there's a lot more to this story. Never does she apologize and she focuses more on how she feels. Here are some segments:
The tension between Kim and me was never about her not "having my back" in New York. There is so much more to it than that. I didn't want to come out and say what it was that was really bothering me because this is a private family matter. It would have saved me a lot of criticism, believe me, but it's not just my story to tell. It's Kim's story too.

After this horrible argument between Kim and I, we didn't speak for a long time. My heart was broken and I suffered an incredible amount of anxiety and panic attacks. Next to losing my mother, this was the most difficult time of my life. It is so difficult for me to even write about it now.

The details of what happened with Kim after that night, is her story to tell. I will not go into that here. I do want to say that I have learned a lot about my sister and myself during the taping of this show. I have been able to look at our relationship from an outsider's point of view. I've realized that my pain and worrying about her comes off as anger. It was not helping Kim or our relationship. I love my sister and only want the best for her. Kim knows that.
[Kyle's blog on BravoTV.com]
What is the story – that Kim supported her whole family by giving up her childhood to Disney and then went a little batty because of it? I don't foresee any backstory that could explain why Kyle attacked her like that. Kim is a scared little thing, and she's probably very frustrating to deal with but that doesn't excuse the way Kyle treated her.
Oh and as for the other women, Kyle says she feels bad for Camille "being an unwilling participant in a divorce has to be profoundly painful," and that it's too bad that Cedric and Lisa had a falling out but "I had a feeling things would turn out this way and warned Lisa." Are you kidding me? Kyle was seen fawning all over Cedric at that party for Lisa's daughter. Kyle is a duplicitous person and now I do believe Camille that Kyle was taunting her by asking if anyone would be interested in her without Kelsey. It doesn't excuse the way Camille behaved afterwards, but I believe her.
In lighter RHOBH news, check out this comparison on TMZ between Adrienne and Taylor and the Wayans brothers in White Chicks. I love Adrienne but this was too funny. She also has these strange bits of glittery string in her hair. What is up with that? At Gawker they say she has pom poms in it.
Look at Kyle in this ridiculous peacock dress. She so thinks she's the sh*t.
Credit: WENN.com