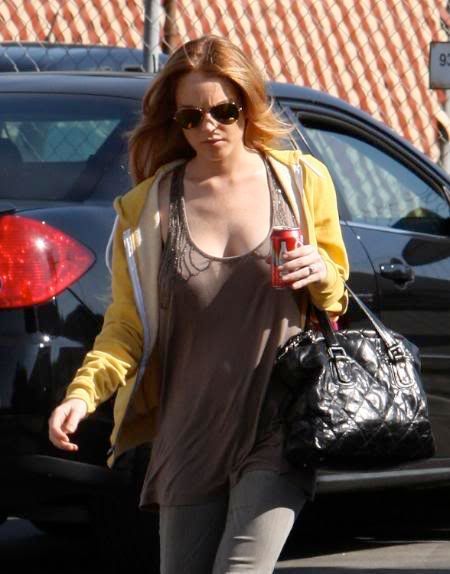 What is going on with Lindsay Lohan lately? I realize that's one hell of a Pandora's box to open. But the woman just makes no sense. At first she seemed to enjoy the positive attention and good publicity she was getting for her relationship with Samantha Ronson. But that must have gotten old, because then she started acting old school Lindsay and being all tacky and rude. Then there were rumors that she and Samantha were breaking up. Now it seems like even Lindsay Lohan, the queen of all photographer's subjects, is tired of the spotlight.
It was supposed to be a double celebration for twins Samantha and Charlotte Ronson Tuesday night, but suddenly camera-shy Sam bailed on their 31st birthday bash at the Bowery Hotel. The deejay and her girlfriend, Lindsay Lohan, "fled the scene" when paparazzi swarmed the joint. "Charlotte and Sam do this party every year with [power publicist] Amanda Silverman," said our source. "The photographers must have caught on because they were outside the hotel. Sam and Lindsay were livid and just left to go do their own thing."
[From the New York Post]
I find that really strange. For one thing, Lohan and Ronson have been photographed nonstop for the past several months, but especially this last month. When I look through the photo agency's pages I'm genuinely surprised there's no "Here's Lindsay Lohan on the can," or something. Why is it all of a sudden a problem? Especially at a birthday party for her girlfriend – when it's obvious she should expect paparazzi there. It seems incredibly rude to just skip out like that – not that manners ever stopped a Lohan from doing with they wanted.
Here's Lindsay and Samantha shopping in Beverly Hills yesterday. Photographer: Michael Wright. Images thanks to WENN.