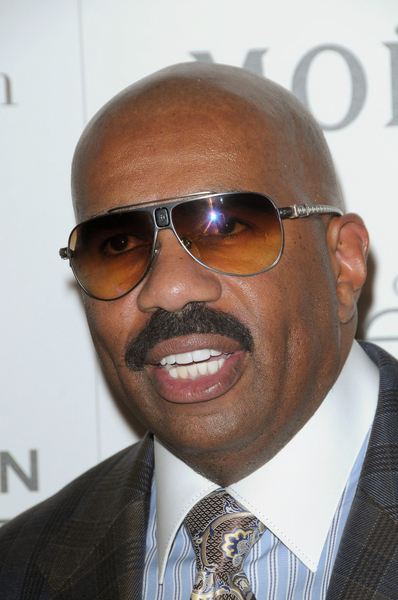 Yesterday we saw a series of three YouTube videos in which Steve Harvey's ex wife of 16 years revealed the ways that she discovered that Steve was cheating on her throughout their marriage, including when she was pregnant with their son. When Steve divorced his ex, Mary, he worked to have her evicted from their home, to limit monetary support, and he even took custody of their 12 year-old son. The way Mary told her story was remarkably thoughtful, calm and well spoken. To say that this woman went on a "tirade," as US Weekly and E! reported it, was a mischaracterization. After all this woman went through, she stated her case very well and with a lot of restraint, especially considering the explicit e-mails and messages she had from Steve's mistresses to back it up. Mary explained that she was speaking out now because Steve is suing her, as he blames her for the fact that his deal with Oprah for a talkshow fell through.
Now that Steve's ex has very convincingly stated her case, he's predictably suing her again and is trying to defame her. I hope the damage has already been done to this assh*le's career, though.
In a three-part YouTube tirade lasting 25 minutes, Mary Harvey, bashes the Family Feud host for allegedly cheating on her throughout their nearly 10-year marriage and then leaving her high and dry when they divorced in 2005.

"He turned my son against me, had me evicted from our house," Mary says. "I woke up, and everything was gone."

And with that, Harvey's lawyers immediately went to Defcon 5.

"We are appalled and aware of the videos and other fabricated documents…which contained false, misleading, derogatory, disparaging, malicious, explicit and slanderous information about Mr. Harvey, his current wife and others," attorney Bobbie Edmonds said in a statement Monday.

"The ex-wife is fully aware of the court's current orders and permanent injunctions which prohibit either party, their lawyers or representatives from discussing and releasing information on the Internet and to the media. We are taking the necessary legal steps to rectify this matter to the full extent of the law and we will be seeking contempt and sanctions against her for such reprehensible and callous disregard for the court orders."

The estranged exes have a son, Broderick, who was born in 1997. Mary also has an adult son from a previous relationship, and Harvey has three children from his first marriage. Mary was his second wife.

Mary claims the Original Kings of Comedy funnyman was messing around with his future third wife, Marjorie, behind her back.

"With all the emails and the text messages, the different things that I was finding out about," she says, referring to the alleged affair, the camera panning to a typed page presented to be a lurid email between Harvey and Marjorie. "I thought the least he could do was make me whole at the end of it. He just left, walked out the door. Once he realized I was going to divorce him…he went [to our apartment in New York], and then [Marjorie] joined him there."

"Steve never said that he was sorry," Mary continues. "He had our housekeeper pack his belongings up and forward those belongings to New York."

She also says that Harvey is suing her in Texas because he blames her for not getting his own show on Oprah Winfrey's new cable network.

Edmonds, Harvey's lawyer, concluded: "We are saddened that the ex-wife has resorted to such devious and selfish behavior, with a reckless disregard for their minor son, her adult son and Mr. Harvey's other children."
[E! Online]
Mary did tell us how this whole story turned out for her, as E! quotes her above, but that was after 20+ minutes of very clearly stating the background and the reasons she's going public with her story. She spent a long time talking about her life with Steve and the things they did together, and it was more like she had mixed feelings about it and was trying to explain where she was coming from. It's predictable to focus on the most sensational things she said, and we do it all the time, but I hope that people take the time to listen to Mary's story and understand what happened to her. As I said yesterday, it's an all too common tale and this admirable woman tells it with such grace. There's no "getting over it" when you lose custody of a child.
These photos of Steve and Mary are from 2004. She looks much better now. Divorcing a cheating dog will do that for you.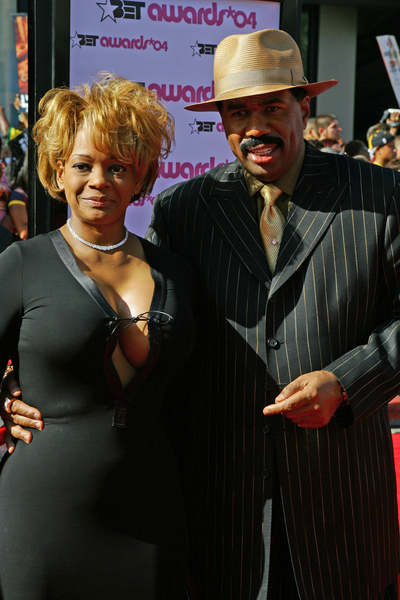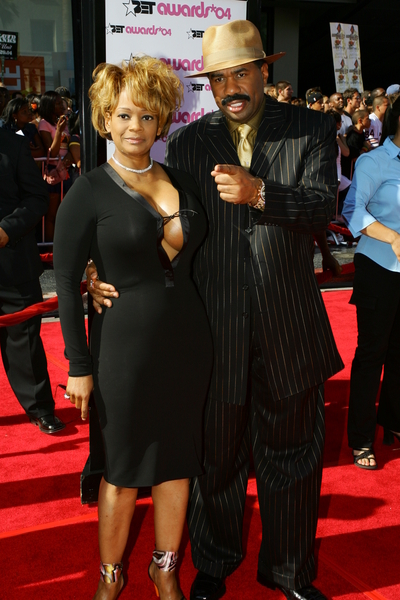 Harvey and his latest wife/last jumpoff: