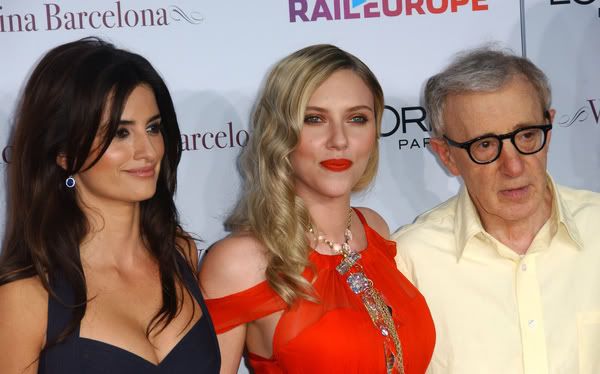 He's worked with Diane Keaton, Dianne Wiest, Judy Davis and of course Mia Farrow, so Woody Allen must know talent when he sees it. However, in a recent press event promoting his new film, "Vicky Christina Barcelona," the iconic writer/director gushes about current obsession Scarlett Johansson, calling her "one of the great American actresses." Hmm. Did I miss something?
For years, Scarlett Johansson has been dubbed Woody Allen's, muse and while the veteran director greatly admires his "Vicky Cristina Barcelona" starlet, he made it quite clear that Johansson is not his central source of inspiration.

"It is silly — she's in no way my muse, but she is one of the great American actresses," Allen said at the film's recent Los Angeles premiere.
I have to disagree with Woody on this one. It's not that I dislike Johansson – she's a fantastic looking woman and seems like a nice person. However, in every movie, she has that same, blank-stare expression and monotone speaking voice. Sometimes, it works for her character, as it did in "Lost in Translation" and "Ghost World," where she played disaffected young women. But in "Girl with Pearl Earring" and "The Other Boleyn Girl," she seemed way out of her league acting-wise, with her mouth hanging open and a robotic line delivery that was just too distracting. Maybe Woody is seeing something I don't. If anyone can clear this up for me, please do- I just don't get all the praise for her acting.
Penelope Cruz, Scarlett Johansson, Woody Allen and Rebecca Hall are shown at the LA premiere of "Vicky Cristina Barcelona" on 8/4/08. Credit: Albert L. Ortega / PR Photos