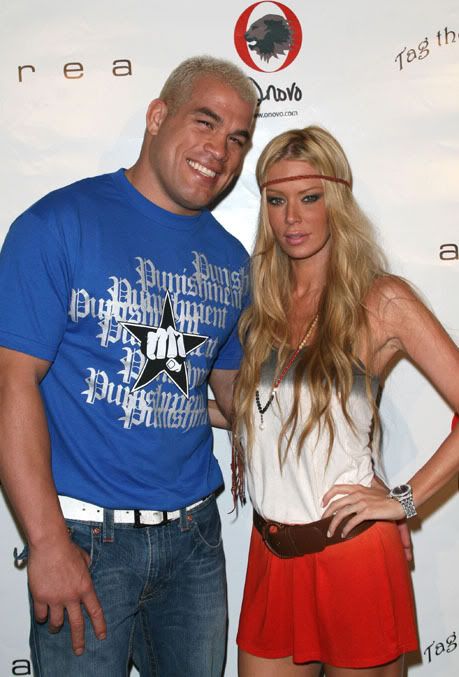 We reported on August 6th that Jenna Jameson was pregnant with her boyfriend Tito Oritz, but no confirmation was made. Turns out, she wasn't pregnant, but the speculation prompted her to take a test…
Earlier this month (Aug08) a New York newspaper reported the 34 year old was expecting her first child with her partner, Ultimate Fighting Champion Tito Ortiz.

Jameson insists she wasn't pregnant at the time, but the story prompted her to get tested – and discovered she really was with child.

She tells PerezHilton.com, "Funny enough, that story was fake, but I just found out I am pregnant."
Jameson adds, "We're over the moon."
Now, I have a reasonable idea of how babies are made, if you are unsure just google Jenna Jameson for some tips, but now I'm starting to wonder – did we somehow make this happen? Did the collective blogosphere, starting with Page Six, cause the word's least likely candidate for motherhood to spawn?
Jenna in the past underwent IVF with her now ex-husband but failed to conceive, so I guess I'm pleased for her good news. I do have a reasonable amount of sympathy for her child – school is not going to be easy for the children of any porn star. I used to be embarrassed when my mom came to pick me up from school in a pair of bright green Hammer pants, but I should have just been grateful she was wearing pants.
Note by Celebitchy: Jenna Jameson is rumored to have had vaginal restoration surgery a little over a year ago. Natural childbirth after that type of surgery is not recommended by doctors, who usually advise patients to have a c-section if they get pregnant afterwards.
Jenna Jameson and Tito Ortiz are shown on 6/19/08 and 7/5/08. Credit: WENN