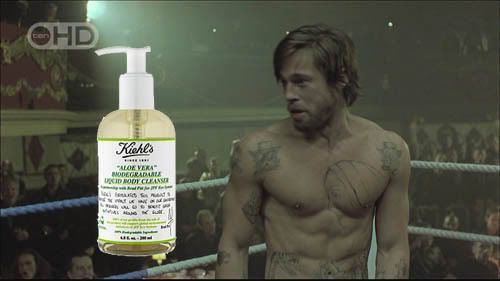 Brad Pitt is foraying into a new eco-friendly enterprise — biodegradable soap.
The actor and father of six is teaming up with Kiehl's to make Aloe Vera Body Cleanser, according to People magazine. The liquid cleanser will sell for $16.50 for a 6.8-ounce bottle, with 100 percent of the net profits going to JPF Eco Systems, a global environmental charity created by Kiehl's and Brad to maximize awareness of environmental sustainability.
Brad will not be featured in any ads for the product, but he did write a note that appears on the label.
Brad's handwritten note reads: Kiehl's formulated this product to minimize the impact we have on our environment. All proceeds will go to benefit green initiatives around the globe.
People also notes that Brad already uses Kiehl's Silk Groom and Creme de Corps Body Lotion.
The Aloe Vera Body Cleanser will debut in October. According to Kiehl's Web site, the product is formulated without parabens, SLS and dyes, and the bottle is 100 percent Post Consumer Recycled.
Brad is one of several stars, like Natalie Portman, who are taking a new direction in celebrity endorsements. Instead of using their famous faces just to sell designer clothing or their own perfume lines, these stars are raising awareness that eco-friendly products can also be stylish. Gwyneth Paltrow, who is featured in a new ad campaign for Tod's wearing dead foxes, could take a lesson from her ex-fiance.
Of course, Kiehl's might sell a lot more if there were ads featuring Brad in the shower sudsing up with the cleanser.
Not that Brad isn't above paid celebrity endorsements. His American commercial for Heineken aired one time, during the 2005 Super Bowl. He's also been featured in ads for products like Edwin Jeans and Sanyo in Japan.
But since hooking up with Angelina Jolie, Brad seems to be pursuing his more socially conscious side. He is active in restoring New Orleans after the devastation of Hurricane Katrina and works with Global
Green and Habitat for Humanity.
Header is a still from Snatch with a photo of the product from Keihls.com.