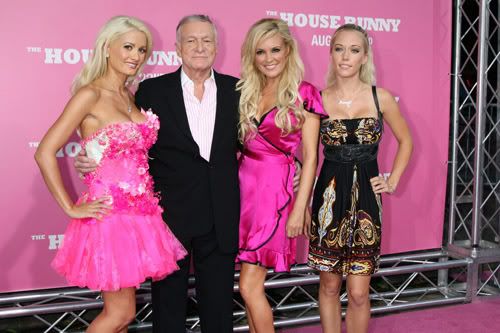 Kendra Wilkinson, the sporty and youngest member of Hugh Hefner's triumvirate of blond 20 and 30-somethings, has long been rumored to be the weakest link . She's not around as much as the other two and is thought to be fighting with them. The way Kendra explains it between taking bites of breadsticks and doing situps, the three women do get along, they just don't spend a lot of time together and that's how it works for them. The show's fifth season, which is thought to be its last, premieres in October. Wilkinson, 23, has made hints that she's ready to leave the mansion and set out on her own. She recently said that she's less interested in partying and is interested in her future, which may include kids and a family, presumably not with Hef. She is thought to be in talks for a reality show which follows her follies outside the Playboy cocoon.
One of the Girls Next Door may be moving out and moving on after the E! reality show's fifth – and likely last – season. "Kendra Wilkinson has been offered her own reality show about starting her life over again when she moves out of the Playboy Mansion," an insider tells In Touch. "Hugh Hefner knows her time is coming."
[From In Touch, print edition, September 1, 2008]
Earlier in the month we reported a rumor that a new brunette, a striking Ukranian model named Dasha Astafieva, was getting close to the 82 year-old Playboy magnate and threatened to upset the delicate balance between Holly, Kendra, and Bridget. Hef's rep says it's not true, though, and that Dasha lives in the Ukraine and doesn't plan to move to LA. He's probably grateful to pare it down to just two.
Hef's women are shown at The House Bunny premiere on 8/20/08, where Kendra sticks out like a sore thumb. Credit: Nikki Nelson/ WENN