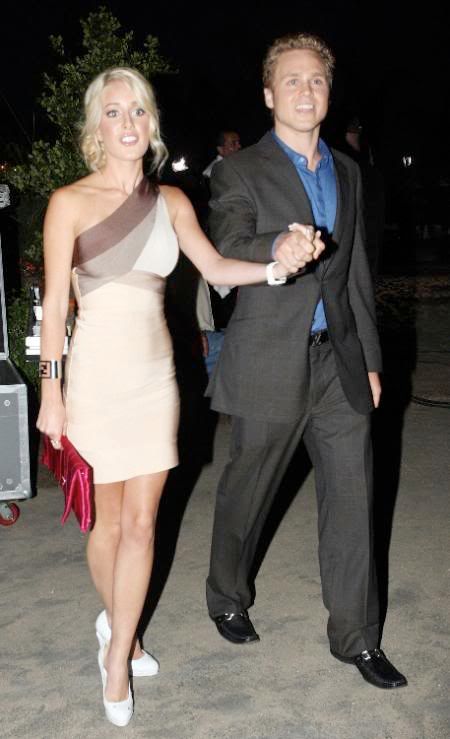 We all have days where we could really use a good laugh. But it seems like it's rare that you're stuck in one of those days and something truly laugh-worthy comes along. Well if today is your worst day ever, you're in luck. Aside from it being your worst day ever. Heidi Montag's newest video came out for her single, "Overdosin." That's right, Heidi doesn't feel the need to conform and use the "g."
A logical person would assume that Heidi's videos would get slightly better over time. I'm not suggesting anything earth-shaking, but you'd think the situation would improve, not worsen, based on reaction and general mockery. Unfortunately Heidi Montag learning from her mistakes isn't really possible – and this video is no exception.
Heidi Montag has debuted her new music video (above) for "Overdosin.'" The Hills star, 21, plays an '80s aerobics instructor as she dances around in lycra, legwarmers and a sweatband.

The pop song, released last week, "is about when you fall in love with someone," she recently told Ryan Seacrest. "[About] how I feel about Spencer and my relationship."

When Seacrest asked if a wedding could possibly inspire her next single, she joked, "I'm waiting for the ring to make that song."

Look for more from Montag and Pratt ahead, who have volunteered to take over the MTV reality hit next season if Lauren Conrad decides to step down.

"I think that maybe Lauren is tired of [being on the show], but we're just beginning," she told Seacrest. "We're not even remotely sick of it."
[From Us Weekly]
I won't even comment on Heidi's "singing." Because that is not a human voice (and it's not singing). Isn't it funny how Heidi, Paris Hilton, and Nicole Richie all have the exact same voice when they break out into song? Perhaps its similar to how British people "lose" their accents when singing (at least to American ears). Maybe faux-blond socialites lose their real voices when singing. It must be something in the water at Fred Segal. And just as an aside, I am seriously bothered by Heidi's mouth-to-chin ratio. They're totally skewed.
The video is absolutely nauseating. Not just due to the cheesy costumes and ass shaking, but Heidi doesn't even bother to sing along. She's just opening and closing her mouth like a guppy fish, and Spencer probably added in the sound later on his Mac. I actually restarted my computer twice to make sure my video and sound cards weren't messed up. Nope – it really is this awful, and it really is meant to look this way. Including the fat guy in lycra. Though to be fair, I was pretty sure my video card couldn't have anything to do with that.
Here's Heidi and Spencer at 'The Hills' Season 4 premiere party held at Paradise Cove in Malibu on August 18th. Images thanks to WENN.