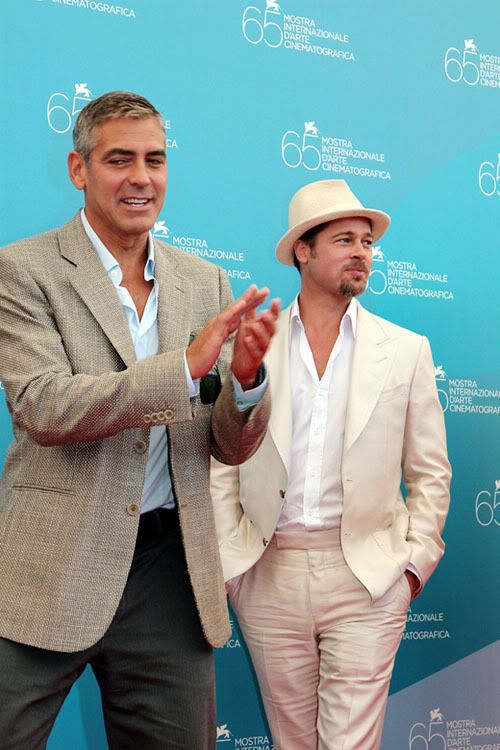 Brad Pitt and George Clooney have brought their hotness, and in Brad's case his two older sons, to the Venice Film Festival to promote their Coen brothers film Burn After Reading, which premieres tomorrow. Last night they attended a gala for their charity Not on Our Watch, which has raised millions for people in war torn Sudan and cyclone-striken Myanmar. The charity's director explained their reasoning for having a fundraising event there, saying that it was hard to coordinate schedules and they may as well do something while the two were both at the same place.
Pitt and Clooney also had a photocall for Burn After Reading today, where they gave glib responses to reporters asking the same old questions. You can see how they encourage each other to joke around when they're together.
Clooney on whether he's ever going to get married
"I am so surprised to hear that question. This honestly is the first time I've ever been asked that question. I'm getting married and having children today."
Pitt: "And until then, I'll be sharing mine with him."
Pitt on how many kids is enough
[joking] "I'll have two more by next year."
He also said "The twins are fine."
Clooney and Pitt on politics and the DNC
Clooney: "I'm happy to be here. This is one of my favorite places in the world to be. I like to watch the conventions on TV. I think the stars of the convention should be the people who are being elected."
I'm pessimistic, but I'm optimistic. I think it's a very exciting time in American politics."
Pitt: "I'm optimistic, too. It's a vital time. It's a defining time. I'm excited about where things are going." [People]
There's a palpable excitement when these two get together, and I love seeing the photos. Someone should make a comedy that has a solid plot and stick all the Oceans men together again. Oh wait – there's Burn After Reading coming. Can't wait for that movie.
Thanks to WENN for these photos from the photocall today. Also shown are Tilda Swinton, Frances McDormand – love her!, Joel Coen, and Ethan Coen.