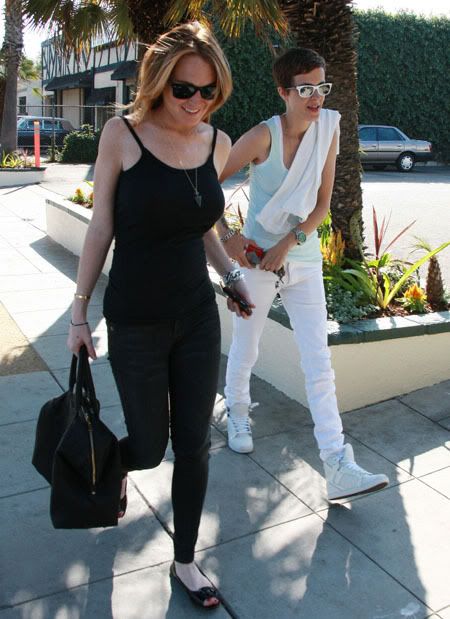 Lindsay Lohan's ex con dad is talking to whichever media outlets will listen about how he disapproves of his daughter's girlfriend, DJ Samantha Ronson. Lohan has cleaned up physically and emotionally under Ronson's influence, but Micheal Lohan insists that she's a "parasite," calls her "controlling and manipulative" and says she's like "a drug" that his daughter is addicted to. In fact, Micheal, who is currently engaged to a model just two years older than his daughter, says he's so convinced of Ronson's negative effect on his daughter's life that he would "sacrifice [his] own life to get Sam out of Lindsay's."
Some of Micheal Lohan's statements are contradictory. On one hand he says Sam is giving Lindsay booze while they're together at Sam's DJing gigs, but then he says it's not about the alcohol but the antidepressants his daughter is on:
X17: Why is Samantha bad for Lindsay?
ML: She's feeding Lindsay alcohol behind the scenes, but that's really Lindsay's fault for taking it — it's not about drugs or alcohol. A person can be a drug and Sam is a drug. She's very controlling and manipulative and it's not a healthy relationship for Lindsay…

X17: What do you say about accusations from the media that you're attacking Sam simply don't like what has been portrayed as Lindsay's gay relationship with her?

ML: That's not the reason at all. Lindsay is fragile and Sam takes advantage of her and the relationship is too intense and too dramatic. Sam and Dina are probably the two worst people Lindsay could be around right now … along with her friend Patrick.

I mean, look at Sam … does she have an identity crisis or what? I mean, the way she carries herself, the way she dresses; she's a slob.

As long as Sam's in Lindsay's life, Lindsay will never be able to reach the potential God gave her.

X17: The media have commented that Lindsay looks better; she looks healthy; she doesn't appear to be drinking or doing drugs; she showed up to work on time for "Labor Pains." By all accounts, she seems to be doing well. What are her problems or issues right now?

ML: It's not about Sam giving Lindsay drugs or alcohol or anything — there are prescription drugs from doctors — psychotropic drugs, antidepressants — that have a serious effect on a person. And I would like to put that out there. These things can mess with a person's mind.

I see some parallels between Britney and Lindsay — the instability, the domineering companion. Lindsay's not in the state that Britney was or is, but there are minor similarities. Just because a person's not abusing drugs or alcohol doesn't mean they're healthy. And Lindsay being with Sam is making matters worse.

I would sacrifice my own life to get Sam out of Lindsay's.
[From X17]
You can see how Lindsay got so messed up in the first place coming from that family. Lindsay is in the healthiest relationship of her life and is the most together she's ever been, but her father is unwilling to acknowledge it and keeps saying how awful Sam is. He even compares his daughter to Britney! He's also blaming the medication that seems to be helping her. It seems like Michael objects to the fact that his daughter is in a same sex relationship, not that she's with someone who is supposedly a bad influence. Lindsay was with a lot of male douches before she met Sam, and you didn't hear her dad complaining about them.
Samantha Ronson is writing an autobiography, and Michael Lohan is accusing her of using her relationship with his daughter to become famous. There's also speculation that goes along with any book written by someone close to a celebrity – that it will be a "tell all." Meanwhile Michael is still fighting with Lindsay's mom Dina over visitation issues and vows to drag her into court again.
Lindsay says her dad is out of control and just needs to stop hurting the people she loves: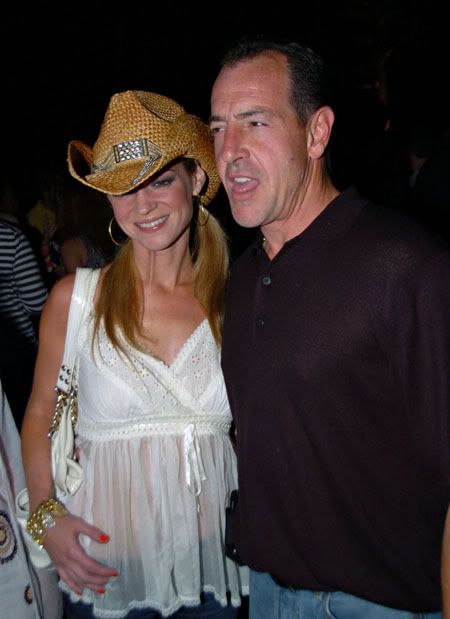 "He's out of control," she told Access from the set of "Ugly Betty," where she's filming several guest appearances for the ABC show's third season.

"I want him to stop hurting and talking to the media about the people I love," she said.

In an interview with E! on Tuesday, Michael said Samantha was "using" his daughter after hearing rumors that the DJ might be writing a tell-all book.

"I've shut up about this long enough," Michael told E! "She's using my daughter. People never even knew who Samantha Ronson was until she met Lindsay. She was just some L.A. DJ. And now she's writing a book? I am at wit's end with this stuff. This is not in Lindsay's best interest."
[From Access Hollywood – link has automatic video]
Lindsay and her mom went out to dinner with Samantha and her mom a few nights ago. Micheal Lohan is bitching about that and saying his wife and daughter missed a family meeting with him and decided to go out to that dinner instead. You can see how they would avoid him when he's so caustic and obnoxious. Maybe all his public bad mouthing is the reason they refused to meet with him.
Update: Samantha Ronson has responded to Michael Lohan's accusations through her myspace. She says that she's not writing a tell all and that he's "desperate for attention":
i really don't want to say anything because i feel like he wins- he, being the man who is so desperate for attention that he goes to the media whenever possible- i know i am being used, i am just a pawn- easy to sacrifice in order to feed his addiction. I was angry when i first read his attack on me, but- for me- i believe that actions speak louder than words… so now i just pity him- i am not standing in his way- i am not the reason that he has no contact with his daughter- he is- his need to throw a tantrum for the whole world to hear is- i am not going to go into a play by play defense- i feel no need to publicly defend my role in lindsay's life- i'm just sorry that she likes me more than him.

p.s. i'm not the one that is so lost that i need to use my relationship with lindsay to earn a living…. i am, always will and always have been here for her for her- not for anything else….so I think it's safe to say that there is not now and never will be a tell all….. written by me….. when does your book come out mr. lohan?
[From Samantha Ronson's myspace]
I'm pretty impressed she responded that way. It's mature and yet you can tell she was hurt and upset.
Lindsay Lohan and Samantha Ronson are shown out in LA on 8/21/08. Michael Lohan and his fiance, Erin Muller, are shown at the Social Like Magazine Party in Water Mill, Long Island on 7/4/08. Credit: Fame.