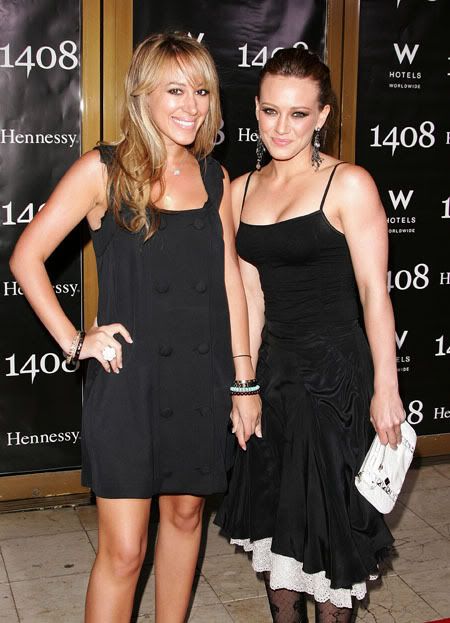 Hilary Duff's mom, Susan, took her former husband Bob Duff to court near Houston, Texas yesterday in an attempt to get him to plunk down an additional $25,000 in child support to pay for Hilary's 21st birthday party. Bob pays $10,000 a month in child support for his daughters Hilary, 20, and Haylie, 23, despite the fact that both young women are successful and live in their own home in LA together. Their mother also lives in LA while he remains in Houston. Hilary is already a millionaire in her own right, with a net worth estimated at $25 million. Susan wanted another $25k for Hilary's birthday, because that's how much Haylie's party cost and she thought that was perfectly reasonable. $10k a month only goes so far, and Susan says she is reduced to borrowing from her richer daughters to pay her bills.
The courtroom got pretty heated between the lawyers for both sides. It sounds like Bob got contempt of court for disobeying court orders, though, not for an outburst. He sold some of his stocks even though he's not supposed to sell assets and was ordered to pay his earnings of $367,537 to the court and led out in handcuffs. Bob was sentenced to 10 days in jail, but can presumably meet bail and should be out soon. As if all those penalties and jail time weren't enough, he'll also have to pay $12,500 to his ex wife, half the cost of the planned birthday party for Hilary:
Stansbury eventually ordered Bob to pay $12,500 to Susan for Hilary's birthday.

Bob took another hit when Stansbury ordered him to spend 10 days in jail for contempt of court. He is accused of violating an injunction against selling assets without court approval and must pay $367,537 he earned from selling stocks last month into a court repository.

Piro said his client plans to post bond as soon as possible and file an appeal.

At the end of the hearing, deputies fingerprinted Bob and led him away in handcuffs. When Susan saw the deputies click the cuffs on her husband, she gasped and put her hand over her mouth.

"This isn't what I wanted," she murmured.
[From The Houston Chronicle via TMZ]
That sounds like a particularly harsh judge. Is it normal procedure to send someone to jail for selling stocks in violation of an injuction? You would think that making him fork over that insane amount of cash would be penalty enough.
There's also the whole issue of the parents having to pay for Hilary's birthday. She's doing fine on her own and she's been sporting what looks like an engagement ring from her boyfriend, hockey player Mike Comrie, who is also a multi-millionaire. He could easily pay for Hilary's party if she doesn't want to foot the bill. Instead, her mother insisted her dad pay for it and he got hauled off to jail during the court proceedings. Whatever party she does have will be marred by what happened to her dad.
Hilary Duff's song Gypsy Woman, released Spring, 2007, is about her dad's affair while he was still married to her mom. Hilary blamed the woman for breaking up her family in both the song and her statements about it.
Hilary and Haylie Duff are shown at the 1408 premiere on 6/13/07. Credit: Juan Rico/Fame Pictures