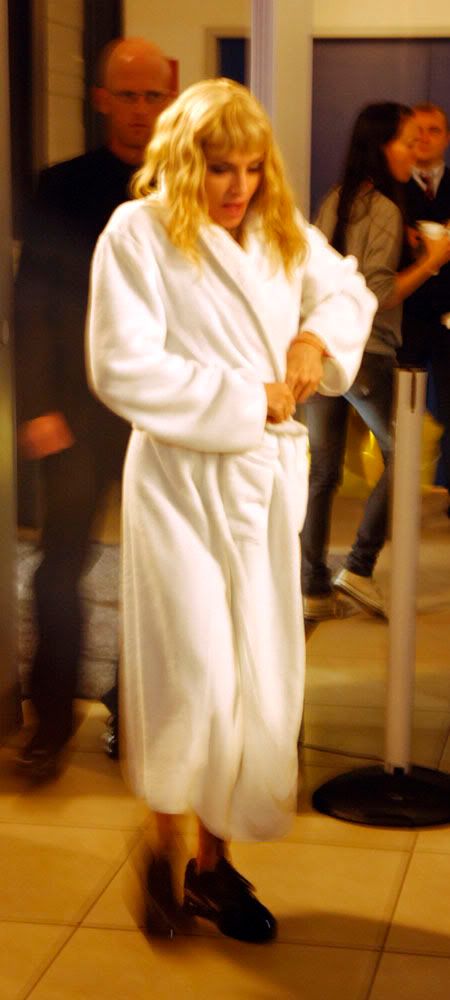 Madonna performed for crowd of 50,000 in Berlin last night. The stadium where she performed, the the old Olympiastadium from the games of 1936, had a capacity of 75,000 and tickets were going for half price on eBay ahead of the event. Retail prices were 90 to 190 Euro, or $132 to $280 USD. Madonna was in and out of the city in 31 hours, and was spotted at Schoenefeld airport going through security in her "Dancing Queen" embroidered bathrobe last night. She didn't fly commercial though, and was in her own Lear jet. She may not have planned to end up at the airport in her robe – she was likely surprised by the fact that she had to go through security and we might not be able to accuse her of wearing the robe for publicity. Madonna and her entourage arrived first at the soon to be closed Tempelhof airport, and had to be transferred to Schönefeld as no flights are allowed out of Templehof after 10pm.
Madonna's people took up 250 rooms in three different hotels in Berlin, and she personally stayed in a 2000 square foot Presidential suite in the Regent Hotel. According to German reports, she had an entire conference room at the Regency converted into an fitness center with equipment, ropes and mats for yoga exercises. Loud music was heard blaring from the room for several hours.
German newspaper Bild also reported that Madonna took hits of oxygen backstage during her performance. They called it "Bio-doping."
All that preparation is said to have paid off, and Madonna gave another roaring performance by most accounts.
Thanks to WENN for these pictures from last night. Love to my husband for helping me with the translation and details for this story.