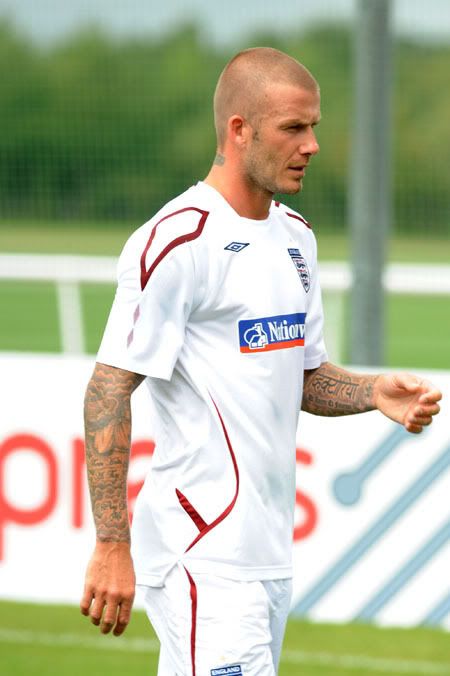 David Beckham has admitted in the past that he's obsessive compulsive about keeping things organized and ensuring his house is clean. Now that the 33 year-old international soccer sensation is getting older, he's becoming obsessed about his body. He's been given the title "best abs in Hollywood," but he still fears getting a paunch and losing his hair.
"He's constantly telling Vic he fears he's going bald, or if he spots a hint of a paunch on his midsection, he hits the gym for an hour," chuckled an insider. Soccer's always kept Beckham in fighting shape, but he now fears the worst as he senses the sun setting on his athletic career. "David is so vain – he can't stand the thought of growing into a fat, bald old man," said a friend. Posh, highly amused by hubby's angst, loves giving him the needle. "She'll tell him she found some hair in the shower and ask – was that his? She loves teasing him about his future as a schlumpy old man because it gives her the upper hand, a button to push!"
[From The National Enquirer, print edition, Mike Walker's column, September 9, 2008]
Men are irrationally afraid of losing their hair, in my opinion. I find bald men pretty hot as long as they keep it short and don't attempt to hang on to their hair. David Beckham has clipped his hair pretty short, maybe because he's losing it, and he looks as smoking hot as ever. He doesn't have an egg-shaped head or anything and has nothing to worry about.
It looks like Victoria is the person who has stopped obsessing with her body in the Beckham household. She gained a small amount of weight and still looks very thin, but she's not scary skinny anymore. She looks great and much better than before. She's shown out in Manchester, England last night with a bodyguard or driver who happens to be bald and rocking it. She wore a black dress pantsuit out to a restaurant. The Daily Mail had to point out that she had something on her ear – possibly a little scrape or injury. Big whoop.
David Beckham is shown during training with England on 8/18/08.
Victoria Beckham pictures credit: Steve Searle/ WENN. David Beckham pictures credit: Credit : Danny Clifford/Hottwire.net/WENN