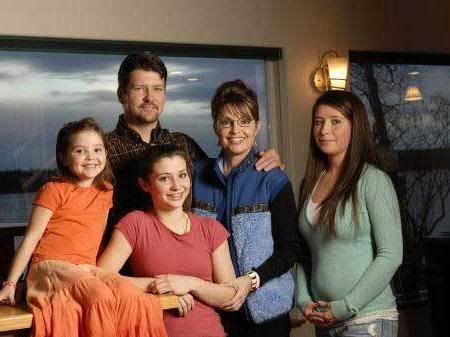 Update: this photo is dated from 2006, and could not possibly show Palin's daughter pregnant with Trig given his age.
Update 2: Bristol Palin, 17, is five months pregnant now. It is impossible for this story to be true at all and our apologies to their family for spreading it. Bristol was possibly pregnant in one of the photos below, but not with Trig.
---
One of the most interesting parts of political campaigns are the secrets that inevitably leak out. Yet more often than not, they're not all that interesting – just interesting given the person's position in society. But recent republican vice presidential candidate Sarah Palin – who's very nomination shocked plenty of people – appears to have been keeping quite the secret of her own the last several months.
Not a Bill Clinton/ Monica Lewinsky level of scandal. Palin's (alleged) secret is a much more private, familial matter, and her motivations could be argued as either self-centered or altruistic, depending on your point of view.
Palin, the Governor of Alaska, supposedly gave birth to her son Trig Paxson Van Palin in late April. However there is a detailed timeline on the website Daily Kos that indicates that it is unlikely (to the point of nearly impossible) that Palin gave birth to Trig, and that he is actually the son of her 16-year-old daughter Bristol.
Palin didn't announce that she was pregnant until she was 7 months along. Her entire staff was completely shocked. Palin is 44 and has given birth to four children – women tend to show earlier and more obviously the more children they have, and the later in life they are. The exact opposite happened here.
I'm going to quote a few highlights from the article, but what really makes it clear that this story is probably true is the entirety of the evidence. I thought it seemed too sensational to be real (and certainly to go undiscovered) but once I finished reading every single point, I'm pretty convinced.
On Friday, April 18th, 2008, Sarah and her husband Todd were in Dallas, Texas for a Republican Governor's Convention. They had been in town for three days already, but Sarah had yet to give her keynote speaker address on energy policy. Then early Friday morning at 4:00am, Sarah began leaking amniotic fluid. Instead of checking into a hospital, she instead made a call to her doctor, and delivered the keynote speech.

"I was not going to miss that speech," she says.

She rushed so quickly from the podium afterwards that Texas Gov. Rick Perry nervously asked if she was about to deliver the baby then.

The oddities only grow from here on, as instead of rushing to a Dallas medical facility that could treat a mother who's amniotic fluid has been draining for hours on end (made even more crucial due to the fact that this is occurring a full month prematurely), Sarah & Todd instead opted to… Fly all the way back from Texas to Alaska. A dangerous choice, as with each pregnancy (once again, in this case after four previous), a mother's window of labor to delivery grows shorter and shorter.

Aboard Alaska Airlines, the flight lasted for eight hours, with an additional landing in Seattle. The majority of commercial airlines require mothers seven months pregnant to provide a doctor's letter to fly, but Sarah did not inform the airline of her condition. Alaska Airlines is one of the few airlines that do not require such a notice, despite the possibility of an emergency landings being required in such scenarios. That said, no one on board noticed that Sarah was going into labor.

Eight months pregnant. A 6.2 pound fetus. No one notices a visible trace. By the third trimester, a perfectly fit woman not wearing anything less than a space suit should be easily spotted as pregnant. Not in Sarah's case.

The plane then made a landing in Anchorage, Alaska. Does Sarah then visit a medical facility that can accommodate a premature birth in Alaska's most equipped city? No. She drives 45 minutes away, to Mat-Su Regional Medical Center, right outside the small village she used to govern as Mayor, Wasilla. Trig Palin is then delivered one month premature, Friday night. Sarah returned to work after three days.

Her sixteen year-old daughter was.

Checking with the Anchorage High School that Bristol Palin attended, reporters were given word that her family had taken Bristol out of school due to contracting infectious mononucleosis. The amount of time Bristol was absent shifts from five to eight months.

Mono can last anywhere from two weeks to three months, but an eight month infection is a freak oddity. Yet it remains a common excuse given by girls in private & Catholic schools around the nation when pregnancy comes into play. Not the first time, not the last time.
[From the Daily Kos]
The article is very detailed and gives a chronological timeline that really makes you wonder how Palin could possibly be pregnant. It also makes you wonder how in the world she thought she could get away with something like this as a public figure. And as much as anything, it makes you wonder why the family made this decision, and if it had to do with what was best for Bristol or what was best for Sarah Palin's career.
A lot of people are saying this isn't that big deal, doesn't matter, and won't change people's opinion of Sarah Palin. I agree that a pregnant teenager is a private family issue, and if the family had handled it differently that'd be one thing. But hearing someone is an outright liar about something this important is pretty upsetting. I know it happens, and it's certainly not the greatest political lie of all time. But that doesn't mean we should accept it.
Politicians aren't perfect, and neither are their children. Who I really feel most sorry for are Bristol and Trig. They're going to be under a lot of scrutiny. People make mistakes, and teenagers make a lot of them. Rarely is something like this so public, and I really hope the Palin's choose to place a greater emphasis on what is better for their children/grandchildren than what's best for their political image.
Note by Celebitchy: The baby in question has Down's syndrome, and a lot of people are saying that points to an older mother. Of course Downs is more common with older mothers, but 80% babies with Downs are born to women under 35 due to the fact that more women under 35 have babies.
There are two pictures below of Palin's daughter from the time she would have been pregnant – when she was out of school for 8 months for "mono." I know this is a very sensational story, as Jaybird mentioned, but the evidence is compelling. The John Edwards story was ignored by the major news outlets until it became impossible to ignore. This is the potential Vice President of the United States and this type of story is incredibly newsworthy. Palin never looked pregnant (update: not true – see below) – her daughter did and dropped out of school, and the circumstances surrounding Palin's pregnancy and birth are suspect to say the least.
The first picture is Palin six months into her pregnancy at the National Governor's Association at the White House. Second picture is from February 28th, and the third is from March 3rd. The fourth photo is of Palin supposedly seven months pregnant after her official announcement. The fifth photo is Palin's daughter Bristol in late 2007, and the sixth one is from the Anchorage Daily News published on March 9th.
Update: It's entirely possible these are all a series of strange coincidences and that the baby is indeed Sarah Palin's and not her daughters. If all these details are true – even if Palin just decided to fly 8 hours after her water broke, then drive another 45 minutes before giving birth – you can see how someone could come up with this conspiracy theory. Here are two photos of Palin looking very pregnant along with a link to the header caption which shows that the photo was taken in 2006 when Bristol could not possibly have been pregnant with Trig. [Thanks Scott F!]
---
Update 2: (same text as top update on page) Bristol Palin, 17, is five months pregnant now. It is impossible for this story to be true at all and our apologies to their family for spreading it. Bristol was possibly pregnant in one of the photos below, but not with Trig.
Bristol Palin is shown holding Trig in a photo taken at the the announcement of Sarah Palin as the VP candidate on 8/28/08. Credit: Emily from Dayton, Ohio, found on Wikipedia