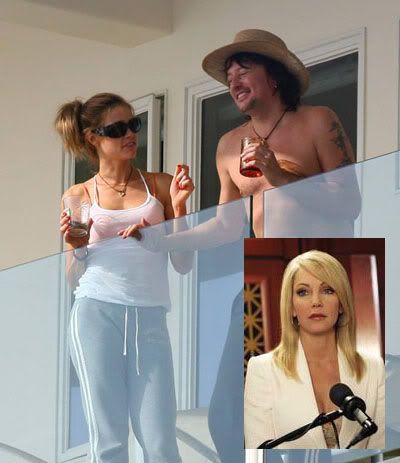 A new article in Life and Style claims that as Richie Sambora and Heather Locklear's high-profile divorce is close to reaching a settlement, Richie is having second thoughts and realizes how much he loves his wife of 11 years. He even sent a $500 pink and red rose bouquet to Heather.
The report details that with his divorce from Heather nearly final; Richie is having a change of heart. An insider tells the weekly magazine Life & Style that while Richie's girlfriend, Denise Richards, was in Hawaii; Richie had two "incredibly emotional" phone conversations with Heather.
"He's realizing its ending and doesn't want it to," the insider tells L&S. "He's still in love with her."
So what do men in love an in trouble do at times like this? Send flowers – or in Richie's case – a lot of flowers. The report claims that on Aug. 10, the insider says Richie sent Heather a massive $500 bouquet of red and pink roses.
Wow. He must realize what he's missing with Heather. Sambora was said to be totally surprised to be served divorce papers this February and even denied to the press that he and Heather were split. Maybe he's not ready to let go.
If that's true, it's got to piss off his media-whore girlfriend, Denise Richards. Denise recently reached an amicable "interim" settlement with her ex, Charlie Sheen, who she famously skewered in the press on the eve of his children's clothing line launch. Denise didn't renew a restraining order against Sheen and according to their lawyers they're getting along.
Denise and Richie were said to be planning a wedding for early next year, and Denise was seen wearing what looked like an engagement ring. She followed Richie to Europe while he was touring with Bon Jovi and seemed really needy in the relationship. If this is true then he's obviously sick of her. Men don't usually like women who hang all over them.