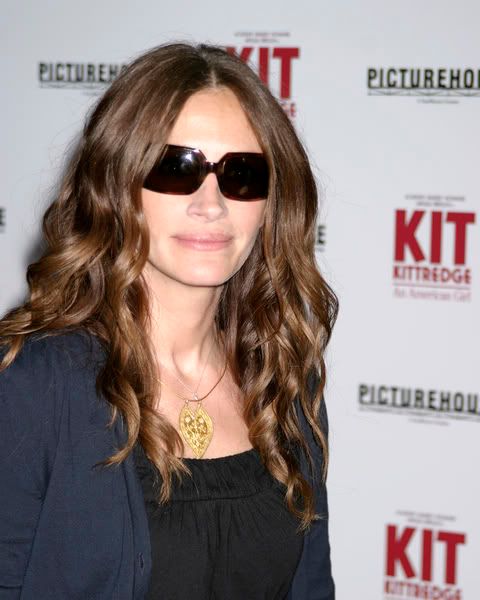 Add Julia Roberts to the list of celebrities who think that their peers shouldn't be too vocal about their political beliefs and affiliations. The 40 year-old Oscar winning actress and mother of three told the UK edition of OK! magazine that she sometimes gets turned off by celebrities talking about politics and can find it distracting to know too much about the actors' opinions when she's trying to watch a movie. Roberts is an outspoken advocate for the environment and for conservation, but she apparently thinks it's different when celebrities get too in depth into their personal beliefs and religious convictions.
Do you feel you should now be a bit more public about your views on life
People do care what celebrities think, but it's a such a hollow care. I've seen actors on TV start talking about their politics or religion, and I just think, you're putting me off. I don't need to know every little thing. People don't really want to know. I'ts nice if you don't have all those little voices in the back of your head when you're watching somebody in a movie.
[From OK! Magazine, UK print edition, September 9, 2008]
Roberts is widely quoted as saying of President Bush "He's embarrassing, he's not my president. He will never be my president." She also supposedly defended his daughter Jenna's underage drinking by quipping "We all need to take a deep breath and think about being a Bush daughter and having that cross to bear. I'd go out and have a couple of drinks, too."
Those quotes are listed on IMDB and it's hard to find an exact source or date when Roberts supposedly said those things, but it's worth noting that she's talked politics in the past. Maybe she regrets it and is striving to just focus on environmental issues from now on.
Kid Rock is another famous person who finds it off putting when celebrities talk politics. He said last week that "I truly believe that people like myself, who are in a position of entertainers in the limelight, should keep their mouth shut on politics." Rock maintains that he's good at being a musician but is uneducated in political matters. He also says that he thinks "celebrity endorsements hurt politicians."
Julia Roberts is shown at the Kit Kittredge: An American Girl New York Premiere on 6/19/08. Credit: Anthony G. Moore / PR Photos