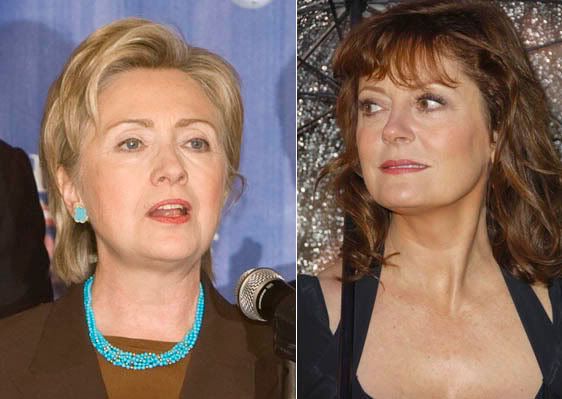 Activist and Oscar-winning actress Susan Sarandon, 61, isn't a fan of the way Hillary Clinton ran her failed bid for the Democratic presidential nomination. She claims that Hillary played the gender card too often and calls her "a blamer and whiner." Sarandon is also not interested in a hypothetical role playing the Democratic Senator due to her poor opinion of her:
You've played quite a few real-life people now. Would you like to play Hillary Clinton in the movie of her life?
No. I've been around her and don't find her… At this point, to say after what's happened to her campaign and how they squandered all that money and all the different reasons her campaign fell apart, to blame it on sexism, I find so destructive to every young girl who dreams about making a difference through government. Instead of saying, "Look how far I've gotten and you can do it too," and all the positive things she could have done, she's turned into such a blamer and whiner, as if that was the reason, when clearly she wouldn't have been in the position she was in if she hadn't been a woman.

If she hadn't been married to that man and hadn't had the Democratic machine behind her. To now turn around and say it was sexism I find so dishonorable and really destructive to women all over, young women all over. So I don't really respect her enough to want to play her, and I find it sad and disappointing.
[From The Advocate as found on Defamer]
Sarandon may be turned off by the way Hillary Clinton handled her campaign, but she's not adverse to playing another politically polarizing woman on screen. Sarandon has expressed interested in portraying peace activist Cindy Sheehan, the mother of a son slain in Iraq who received widespread coverage for camping out in front of Bush's Texas ranch in 2005. Sarandon knows Sheehan personally and has attended anti-war protests with her. As far as I can find there is no film project in the works.