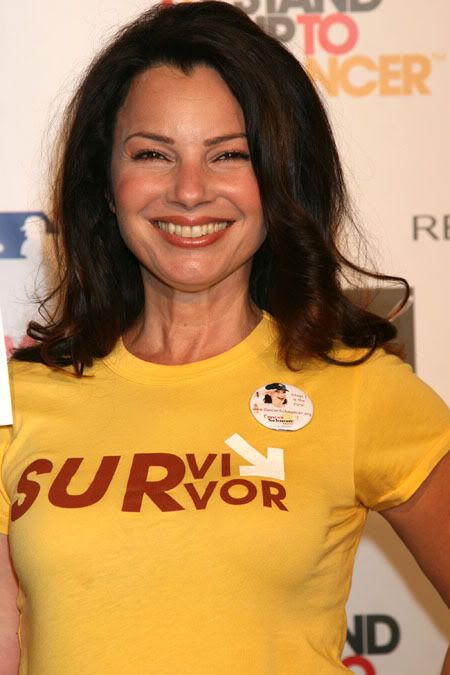 Uterine cancer survivor and "The Nanny" star Fran Drescher has been named as a U.S. public diplomacy envoy on the issue of women's health- particularly cancer prevention and care.
On Monday, Sept. 8, Secretary of State Condoleezza Rice will name the Emmy and Golden Globe nominee the newest member of the State Department's Public Diplomacy Envoy program. Drescher will join the ranks of figure skater Michelle Kwan and baseball legend Cal Ripken Jr.

Like the other envoys, Drescher will travel the world promoting America's image. The State Department, which oversees the program, says she will focus her energy on issues close to her heart, namely women's health and cancer awareness and prevention.

Drescher, herself a cancer survivor, founded Cancer Schmancer, a nonprofit organization that works to ensure women's cancers are diagnosed in their early stages, when they are most curable.

Her first trip abroad will be to eastern Europe later this month. The State Department says Drescher will travel to Romania, Hungary, Kosovo and Poland. She is also expected to take a trip to the Middle East.

The actress, known for her trademark nasal voice, Queens accent and staccato laugh, also appeared in the movies "Saturday Night Fever," "This Is Spinal Tap," "The Beautician and the Beast" and "Jack."

Kwan, and Ripkin who were named as envoys in 2006 and 2007, respectively, have been traveling the world using the universal language of sports to promote understanding among young people.

Drescher, who will be the first nonathlete envoy, was offered the job over a year ago by then undersecretary of state for public diplomacy and public affairs Karen Hughes, a former White House adviser to President Bush.

Hughes, who has since left Washington to return to her native Texas, described the Special Envoy program in a 2007 speech as an attempt to "reach out to that vital audience of young people" and provide a way "to counter extremism and foster greater tolerance and respect for diversity and differences."
Drescher has said that it took her two years and seven different doctors to properly diagnose her cancer. In her book, "Cancer Schmancer," the actress talks about how gynelogical care has not advanced. "The big problem with the typical exam is we don't get tested for anything north of the cervix," Drescher wrote. "What about the uterus and the ovaries? The doctor still gives you a manual pelvic exam which is like something out of the Dark Ages." If someone with Fran's money and access to leading doctors has that kind of trouble getting care, you can imagine how other women are faring- in this country and in other parts of the world. I don't know how much Drescher will actually be able to accomplish as a diplomat, but at the very least, I hope she raises awareness.
Note by Celebitchy: Here are photos from the Stand Up 2 Cancer telethon held on Friday featuring Fran Drescher, Christina Ricci, Sharon Osbourne, Melissa Etheridge, Ellen DeGeneres, Marissa Jaret Winokur, John Krasinski, Forest Whitaker, Sheryl Crow, Charles Barkley, Evan Handler, Abigail Breslin, America Ferrera, Jennifer Garner, Mandy Moore, Salma Hayek, Josh Brolin, Casey Affleck, and Kate Bosworth. Credit: WENN.