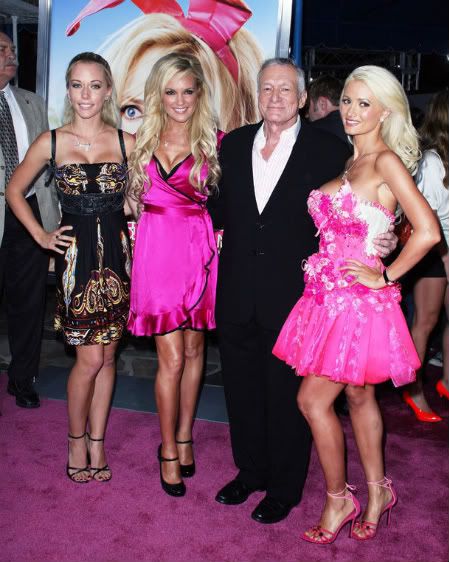 Supposedly Holly Madison has finally left Hugh Hefner for good. Holly's been waiting for Hugh to make an honest woman out of her for almost seven years. Rumors started quite a while ago that she wanted to have Hugh's own little bunny, and that she's been pestering him ever since. But apparently after seven years Holly finally got the message that it isn't going to happen with the old guy, and she's been cheating on him with Cris Angel – and plans on moving out of the mansion soon.
Amid rumors that Hugh Hefner's main squeeze Holly Madison has been hooking up with another major playboy (magician Criss Angel), a Playboy Mansion insider not only confirmed that the rumors are indeed true, but also exclusively told Scandalist that Holly is leaving him. "[Holly] told Hef that she is moving out of the mansion and breaking off their relationship," said our source as we were hunting for gossip at MTV's VMAs.

Wait! There's even bigger news … Because Bridget and Kendra are intending to leave to pursue their own careers, Hef is looking to replace all three bombshells from Girls Next Door. "Hef is actively seeking three new girls to replace them immediately," said our source.

Could it be true? Holly always seemed to be the most loyal and devoted to Hef. Has Criss Angel worked his magic on yet another Hollywood lady — making her disappear from her long-term relationship with Hef?
[From Scandalist]
This blog isn't one we've ever heard from before and we think there's a pretty good chance they're making the whole story up to get some press. Which – to be fair – is working. Their information says they're owned by VH1 and MTV, but they've only been around since early August. But considering who they're owned by, it's very possible they really did have staffers at the VMAs. That doesn't mean their source is any more reliable, but it could be legitimate as far as gossip goes.
I'd guess if there's any truth to this rumor it's just to drum up more gossip for Holly. Kendra got a lot of attention for deciding to leave the show, and Holly probably just wants to look independent and like she's got her own thing going on too.
Here's Holly with Hugh Heffner and Kendra Wilkinson and Bridget Marquardt at "The House Bunny" premiere on August 20th. Images thanks to PR Photos and WENN.