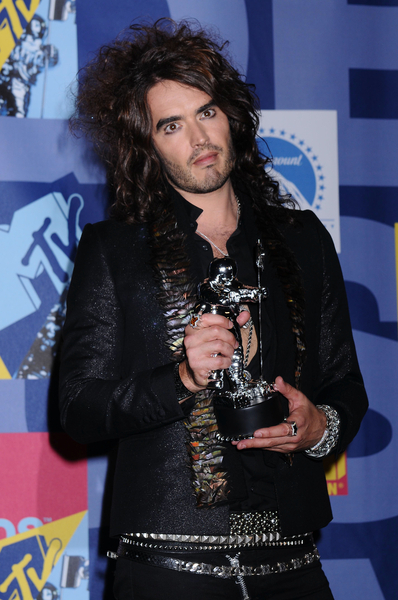 The staff over at the Daily Mail and The Sun have gotten themselves all worked up over Russell Brand's opening monologue for last night's Video Music Awards. Apparently it was quite offensive to British audiences, which I found especially shocking. I would think they'd have the best chance of appreciating Brand's "unique" type of humor.
Apparently Brand's labeling George Bush a "retarded cowboy" was the major sticking point.
Russell Brand faces being blacklisted by the American media after causing outrage with a string of offensive jokes at the live MTV Video Music Awards. The Essex-born comedian labelled President George Bush a 'retard', called Britney Spears 'the female Christ' and poked fun at young virgins.

He began his opening monologue by saying: 'Please, America, elect Barack Obama. On behalf of the world. Some people, I think they're called racists, say America is not ready for a black president. 'But I know America to be a forward-thinking country because otherwise why would you have let that retard and cowboy fella be president for eight years?'

He added: 'We thought it was nice of you to let him have a go, because in England he wouldn't be trusted with a pair of scissors.'
[From the Daily Mail]
I watched Brand's opening monologue a few times and have to say that while I didn't find it to be spectacularly funny, it wasn't especially offensive either. People have been complaining about that particular use of the word "retarded" for a long time now. And while I agree it's inappropriate, it's clearly a part of the lexicon, like it or not. Nothing about an edgy comedian using it is particularly shocking. It's quite simply a matter of taste, and no one can be surprised that a comedian like Brand doesn't have much. He wasn't hired by MTV because of his class. People can go ahead and complain about the word as much as they want – I abhor it. But it's been used that way for long enough that I feel confident it's a waste of time. And the more attention they give to it, the longer it stays relevant.
The joke itself was pretty stupid. There was just nothing funny, unusual, or interesting about it. Celebitchy complained that she laughed once during the whole thing. I counted, and I laughed a solid five times. Normally I'd still consider that a miserable failure, but compared to one chuckle I guess that's pretty good.
I did like Brand's whole riff on Bristol Palin's boyfriend Levi Johnston. He joked that a lot fewer kids would be having premarital sex if they all had to go to the Republican National Convention as punishment. And made some joke about how from now on Johnston would be so careful he'd use a condom even when her masturbated. And would then take the condom and bury it just to be safe. I think four of my five laughs came during that whole idea. And I think sending kids to the Republican National Convention should become a new form of punishment. Everyone would behave a lot better.
Here's Brand's monologue. I'm especially interested to hear how many of our readers though it was actually funny.