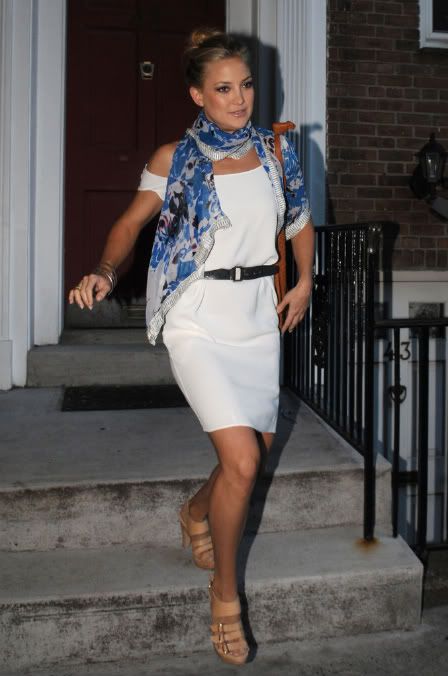 We're all allowed our bad moods and bad days. But when you're a celebrity you forfeit that right – at least to an extent. Fair or not, if you're in a noticeably bad mood at a public event, people are going to hear about it. And pretty soon you're known as that crazy diva bitch instead of the nice girl next door you used to be. Unfortunately for Kate Hudson, she was in one of those moods the other night. It doesn't sound like it was anything legendary, nor does it seem indicative of some well-hidden bitchy persona. In fact it seems all the more surprising because she generally seems pretty nice and down to earth.
KATE Hudson shocked partiers Thursday night with her "nasty and rude" demeanor. Hudson arrived at the Gramercy Park Hotel for the Bravo premiere party for Rachel Zoe's new show, "The Rachel Zoe Project," in "an absolutely foul mood," our spy said. "She was almost indignant waiting for a friend to arrive." When the friend came, Hudson and pal got in an elevator headed to the rooftop party, but the actress became incensed when there were too many people around her. "In the elevator she kept screeching, 'I'm freaking out! It's too much!' while waving her arms around."

When she arrived at the roof, Hudson shunned the press line, claiming, "I don't do that," before going into a corner and demanding a bodyguard. She perked up when Kevin Connolly came over and flirted with her, before she left for the Rose Bar. A rep for Hudson said, "This is all ridiculous and completely untrue. Kate did go to Rachel's party to celebrate her new show, had a great time and left with the group of girlfriends she came with."
[From the New York Post]
Okay Kate's behavior does sound extraordinarily bitchy. But we all have those days. Normally we can just keep to ourselves, and few of us have press lines to avoid. There are about thirty things I wouldn't like about being a celebrity, but the notion that you're always supposed to be overtly nice and friendly to everyone you come across is probably number one.
And I think there's a good chance that Kate is claustrophobic, and that's what was going on in the elevator. I have a friend who has severe claustrophobia, and it's brought on when she's stressed, anxious, or otherwise in a bad mood, which it sounds like Kate was. Put a person who's feeling that way in an elevator, and they're likely to freak out. And that stifled feeling can remain long after they're partying on the roof deck.
I'll admit that it sounds like Kate was in a bad mood, but I think everyone gets a pass. This is really more noteworthy because it's so different from the things that are generally reported about her, not because it's part of her character.
Here's Kate in the West Village in June. Photographer: Doug Meszler. Images thanks to WENN.