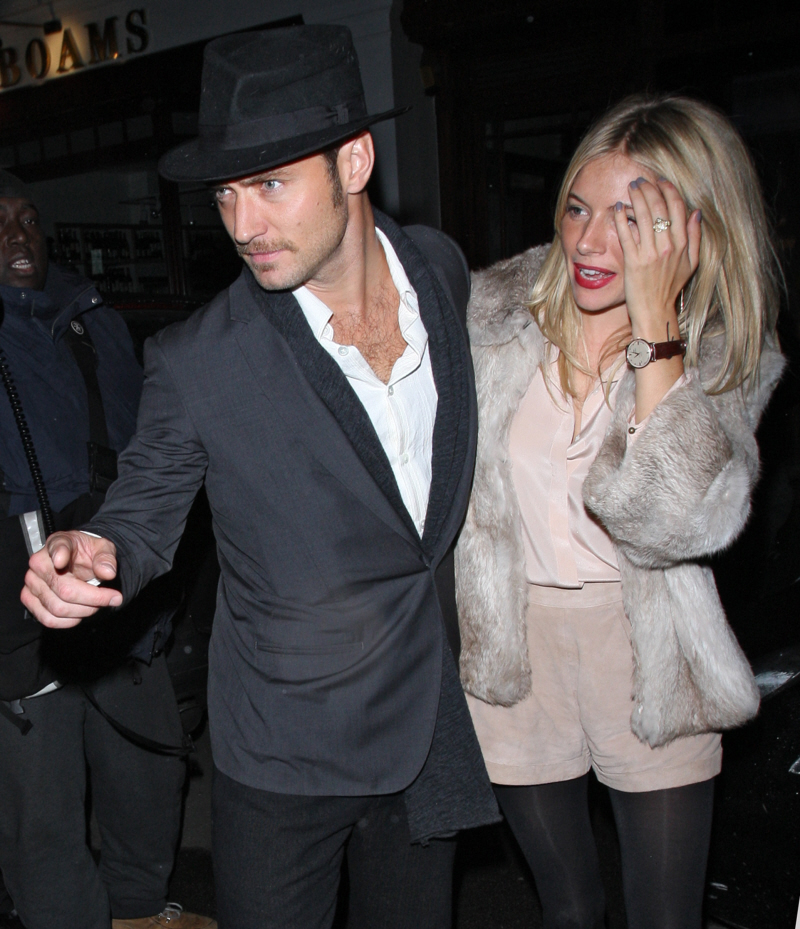 Haha, The Daily Mail has an EPIC story about Jude Law and Sienna Miller's breakup, and it is one of the funniest things I've read all week. It's like the Mail had all of their sources just waiting in the wings for the split, and then those sources just went crazy spilling every dirty detail. So, what caused such a blonde, beautiful couple to breakup for the millionth time? Apparently, their relationship had "descended into heated arguments over everything from her dogs (too messy) to his relationship with his ex-wife and the mother of his three children, Sadie Frost (too harmonious)." Oh, and that's not all:
There is even talk that 29-year-old Sienna found her 38-year-old beau's ­preference for staying in 'really rather boring', and there are rumours that she has been on dates. Whatever the reasons for the split, friends on both sides insist that it is final.

While the romance was restarted once before — following their break-up after Jude's affair with his children's nanny in 2005 — friends say this time there is 'absolutely no chance whatsoever' of the couple getting back together, however much their publicists may talk about the split being 'amicable'. The separation has come as a shock to many — Jude gave Sienna a diamond ring and a grand piano for Christmas, and there was even talk — later denied — she'd asked her designer sister Savannah to sketch her dress ahead of a possible summer wedding.

Jude and Sienna were planning a permanent move into the £8 million London mansion they were renovating, though the Mail has learned that the property was bought by Jude alone in November. His birth name, David Law, is on the title deeds. Sienna is now back in her bachelor-girl pad a few miles away with dogs Porgy and Bess for company.

Perhaps it says something about Sienna — who prides herself on being a free-spirit, and who once dated James Bond actor Daniel Craig — that no sooner was the news out of the couple's split than rumours began to emerge about her and a young actor. Currently in rehearsals for the play Flare Path, by Terence Rattigan, Sienna has struck up a friendship with her co-star Joe Armstrong — the son of character actor Alun — who is best known for his role as Allan a Dale in the BBC's recent Robin Hood series. There is also talk that she has become friendly with another man.

However, a friend of Sienna's spoke wearily about the 'constant ­speculation' and added: 'There is no other party involved. There is absolutely no truth in the rumours about Joe Armstrong.' Jude's agents, meanwhile, declined to comment. So why then did Sienna, known in some circles as 'Serial Miller' because of her occasionally scandalous private life, fail to make a go of it with Jude? People who know her say that, although she is a 'sweet girl', she and Jude were never the perfect match. Some describe her as being 'in love with being in love'. There may be something in this, for she once said: 'I find all that slightly destructive, but mad, love alluring.'

Apparently his parents — theatre agents who are now offering their son a bolthole at their home in France — were relieved when Sienna exited stage left, taking her dramas with her.

The 'Sadie question' seems to have been the cause of disagreements between the couple. A few weeks after the reunion, Jude and Sienna had a holiday in the Caribbean with his three children — aged between eight and 14 — by Sadie Frost. Sadie had been advised that if she wanted to join him, she could pay for her own trip. This led to Sienna feeling that her preferences were at last being put above Sadie's.

Just a few weeks later, Sienna crossed swords with Sadie in spectacular fashion, after Sienna took Jude's daughter for a haircut. Sadie returned from a weekend with their two boys and was enraged to discover the youngster's curls had gone. She tartly tweeted: 'I think ya should get ya own child and then cut their hair.' In this argument, I'm told Jude backed his ex-wife and asked Sienna to apologise. In the circumstances, perhaps there wasn't room in Jude's life for a romance with someone as high-maintenance as Sienna.

A friend of Jude said: 'He has been comparing her with Sadie and telling her all about how wonderful Sadie is, and about Sadie's detox diet and how great she's looking and feeling.'

Jude spent Christmas Day with his ex-wife, after which Sadie tweeted: 'Daddy Law, Mumma Frost, and the 4 baby bears all ate, drank, sang, and were merry — a good year for us!'

How awkward this must have made Sienna feel. Let's not forget that for several months during her first ­relationship with Jude, she was such a persona non grata with Sadie that she wasn't even permitted over the doorstep of Sadie's house.

And more recently, Sienna has complained to friends that Law had become 'boring' — not sharing her free-spirited nature when it comes to partying. Jude is said to have been busy overseeing the work on the house, which he likes to keep tidy, and has found Sienna and her dogs intolerably messy and chaotic. The couple were observed apparently arguing on holiday in south Italy last summer, after accusations she was flirting with the locals. Maybe Jude should have been jealous; Sienna certainly has a track record when it comes to romance.
[From The Daily Mail]
Yep. Sienna is a drama queen who uses sex to get attention. It's like she's 16 years old, forever. The Mail even throws in a quote from a source close to Kate Moss, calling Sienna a "nuisance". Damn, Kate Moss better hide her fiancé! Seriously, though, I'll totally buy that Sienna already has a jumpoff. That's her M.O. The girl always has a man because… I guess she just can't be alone. Sienna Solo is not enough drama. And it sounds like Jude was simply tired of the drama. Also: Victory for Sadie Frost! The Original Crazy Mrs. Jude Law got hers, didn't she?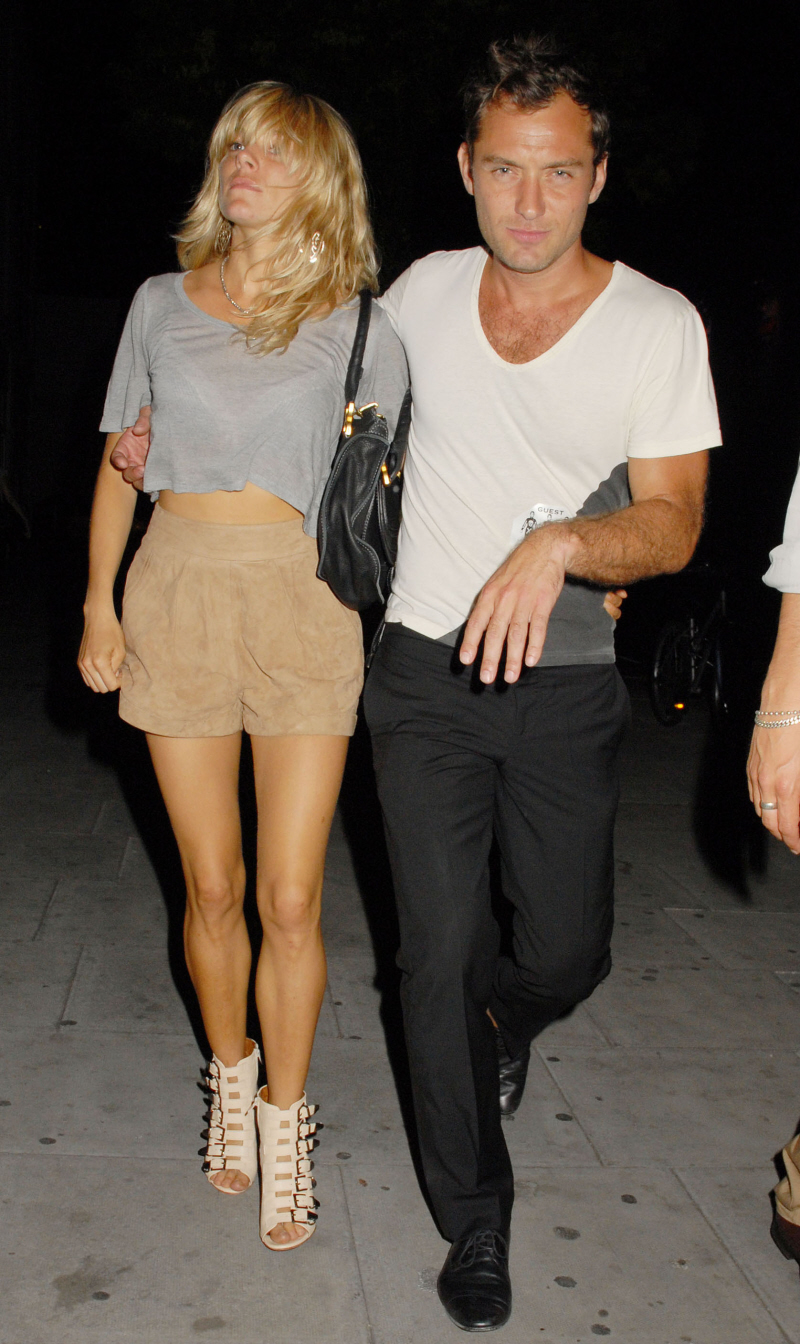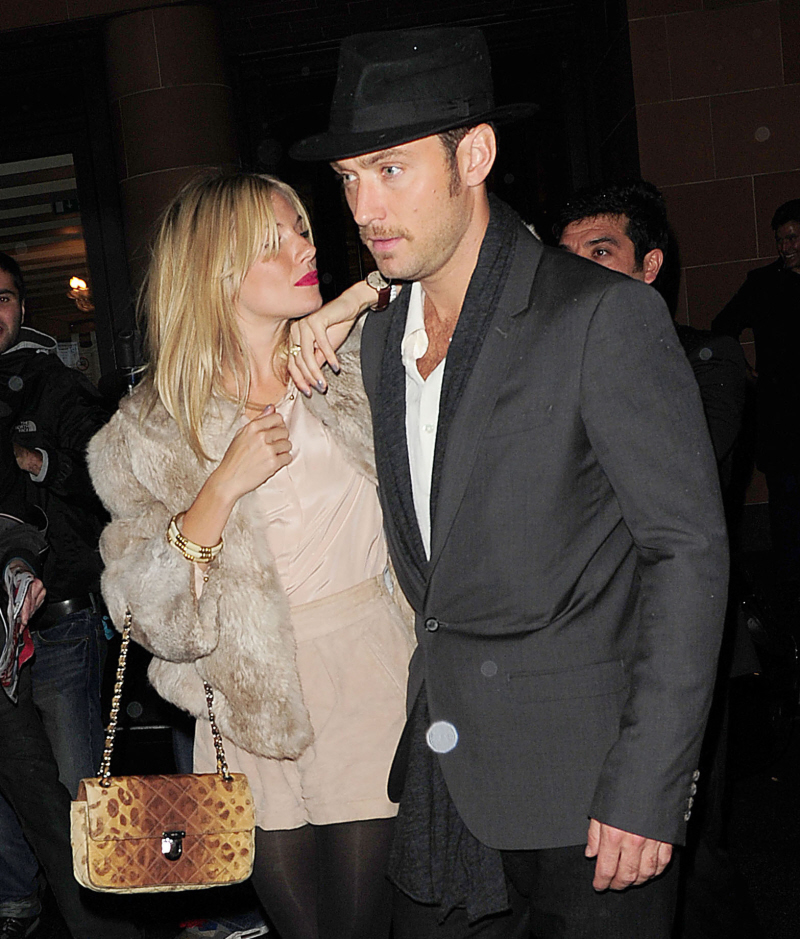 Photos courtesy of WENN.