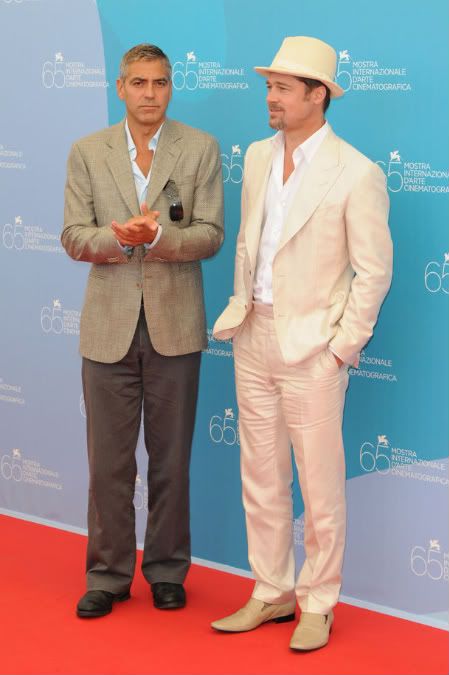 I truly feel sorry for celebrities when they say they've been misquoted, had something taken out of context, or just had people not understand their tone. I never thought it could happen as often as they claimed until I started writing, and things I would say would be completely misinterpreted all the time. Then I realized that even when you're careful, people can pull out teeny bits of phrasing to make it look like you said something that was not at all your intent.
So with that caveat in mind, it appears George Clooney really isn't into kids at all – and the source is Brad Pitt. Brad actually said that Clooney "hates kids." The source is Extra, and they're generally pretty reputable. That said, they didn't convey how Brad said it, so it's hard to know if maybe he was joking or being facetious.
After the birth of Brangie twins Knox and Vivienne, rumors ran rampant that the tots had a godfather who would make the Hollywood elite green with envy — George Clooney! But is it true?

Dad Brad cleared up the reports of real-life pal George being godfather to his fifth and six children, telling "Extra," "No, he hates children." Brad laughed, "Are you kidding? I love the twins too much to subject them to George."

Pitt and Clooney are currently promoting their Coen brothers flick, "Burn After Reading."
[From Extra]
The laughter makes it clear Brad said it lightly, but I really could interpret the quotation either way. I really don't see Clooney as being the type to have kids, and he seems to know that about himself which is good. But he also seems pretty fun and like he'd be a cool uncle or god father, so I'd be surprised if he truly disliked all kids. There's a difference between not wanting to have your own and not like the entire under 18 species.
But if Clooney really isn't a fan, I'm sure that's something the Jolie-Pitt clan learned pretty early on. There's just flat-out too many of them for anyone to be able to hide their feelings for long. And George has publicly bemoaned all his guy friends settling down with babies. Maybe he's just resentful of the loss of quality bro time.
Here's Brad and George at the premiere of Burn After Reading photocall at the Venice Film Festival on August 27th. Images thanks to WENN.