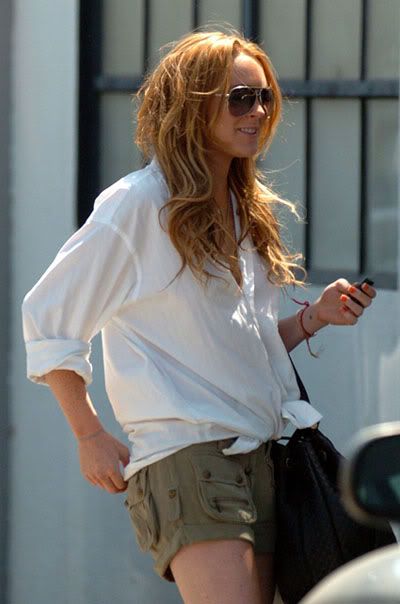 The NY Daily News reports that Lindsay Lohan has been showing up to work on time and has cleaned up her act since receiving that scathing letter from the CEO of the production company running the film she's starring in, "Georgia Rule":
Pals of Lindsay Lohan have noticed a change come over the firecracker actress in recent weeks.
"She's heard everyone and is cleaning up her act," says a friend.
"Lindsay is really taking it easy these days. … she is focused on work and [boyfriend] Harry [Morton]."
Lohan's love of the nightlife has kept her in the gossip pages. But she was stung by a recent letter from the producer of her new film, "Georgia Rule," slamming her hard partying and lax work practices.
"It was a turning point," says the friend. "She realized it was a matter of either stepping up or stepping down.
"Lindsay took this seriously; she takes her career seriously. She has been going home early every night and [arriving] at work on time since the letter."
Someone close to Lindsay called the Daily News and planted this story. She needs to do serious damage control after everyone saw firsthand how she lives in messy luxurious, drunken squalor and parties with her mom.
This could be true though. There seem to be less pictures of Lindsay out and about. She's staying in surrounded by thousands of dollars worth of scattered fashion and snorting coke with her mom at night.
Here is Lohan on a a photoshoot for In Style magazine in Hollywood. Found at France-vidcaps.org via JJB.