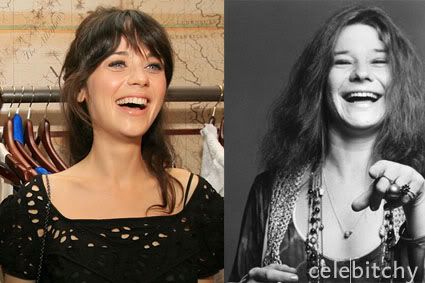 Cutie Zooey Deshanel has bested Pink, Lohan, Britney Spears and Scarlet Johansson to land the role of Janis Joplin in an upcoming movie about the singer's ill-fated life, "The Gospel According to Janis":
ZOOEY DESCHANEL has beaten LINDSAY LOHAN, BRITNEY SPEARS and SCARLETT JOHANSSON to the coveted role of JANIS JOPLIN in the forthcoming movie biopic of the tragic singer. Pop punk PINK was originally director PENELOPE SPHEERIS' first choice to play the late rocker, but pulled out, blaming the movie's producers for turning the casting process into "some circus pop contest – who's the 'it' girl who wants to play Janis". However, ALMOST FAMOUS beauty Deschanel, 26, has signed to play Joplin in THE GOSPEL ACCORDING TO JANIS, which starts filming in Philadelphia, Pennsylvania in November (06). PIECE OF MY HEART hitmaker Joplin died of an heroin and alcohol overdose in a Hollywood hotel room in October 1970 at the age of 27.
Deshanel is known for supporting roles in "Almost Famous" in 2000 and "Failure to Launch" in 2006. She bears more than a passing resemblance to Janis and it will be interesting to see how good the film is and how well she pulls off the role.
That's great news and it should be a big boost to her career. According to IMDB, she has four movies in the can that come out next year, is filming another, and is announced to be in three more. We're going to see a lot more of her in the near future.
Here is Zooey with Michele Trachtenberg at a Lucky magazine party on 8/10. They're legally required to pay taxes on that swag now. [via]
(Sorry I tagged that image, but it took me a whole ten minutes to make it.)