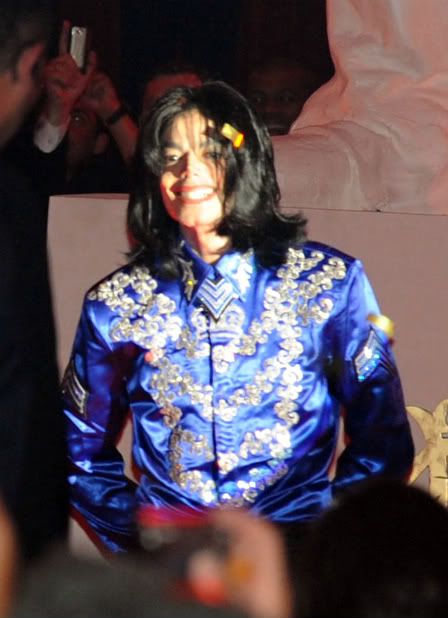 Today I made a list of all the things of Michael Jackson's that I'd want. And it was a super long list. For once I'm not being sarcastic – the dude has some crazy stuff. Your own zoo? The bones of the elephant man? Jewel-encrusted toilet seats? I'm not actually sure the last one exists, but considering the other wacky things Jacko has admitted to having, a ruby-ensconced john doesn't seem that far off. Plus it would make you feel really glamorous when you were using it. And also sort of like you had a rash. I digress.
Of all the awesome, auction-worthy possessions, I have to say the one I've always felt least likely to bid on is Michael Jackson's underwear. Maybe that's because I spend a good deal of my day doing everything I can to ensure I don't think about Michael Jackson's underwear. But someone out there clearly thinks the right bidder (collector? hobbyist?) can be found.
MICHAEL Jackson's notorious tighty whities are up for grabs. A pair of size-28 Calvin Klein white briefs once belonging to Wacko Jacko will be auctioned on eBay tomorrow, with a reserve price of $1 million. The unwashed underpants have a sensational past. They were part of the evidence confiscated in 2003 by then-Santa Barbara DA Tom Sneddon, who wanted a DNA sample for his unsuccessful child-molestation case against the washed-up King of Pop. The briefs are part of a stash of Jacko artifacts offered by New Jersey businessman Henry Vacarro, who obtained them in a bankruptcy case. For extra authenticity, the briefs come sealed in an evidence bag and wrapped with police tape. Also being sold are the Gloved One's handwritten note explaining why he wants an annulment from Lisa Marie Presley and a used half-ounce tube of skin-bleaching cream.
[From Page Six]
Wait, Michael Jackson uses skin bleaching cream? You mean he doesn't look that way because of some genetic skin issue he got from his father like he said? I feel unfairly lied to. The listing hasn't gone up yet, though according to reports (and there are a LOT of them) it will be online today. And by the way, never search for "Michael Jackson" and "underwear" or "underpants" on eBay. My little bit of free advice for the day.
Jacko's underoos have quite an interesting legal history. I wonder if it comes with a chain of custody sheet or something. I'd throw in at least an extra (hypothetical) $25,000. And perhaps a pair of salad tongs or some other device for transporting the valuables. No offense to anyone implied: I don't care whose used underwear it is, it's used. Underwear. It requires tongs.
I'm going to be genuinely surprised if this nets the required $1 million. It probably will but the deal will fall through. I don't care what kind of bizarre collector you are: I highly doubt you're going to display Michael Jackson's possibly criminal underpants that you won on eBay for $1 million. Mostly because it'd make you look stupid. For about 32 reasons.
Here's Michael celebrating friend Christian Audigier's 50th birthday on May 23rd. Images thanks to Fame.