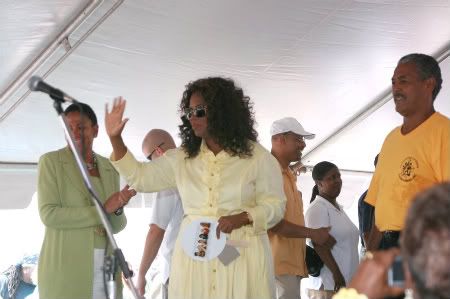 While some celebs are most known for spending all their time and money promoting themselves (or slapping their own name on other people's work) a good many should be equally known for their good deeds, which includes donating large sums of money to charitable causes. Parade magazine (that little insert magazine that comes in your Sunday paper and has ads for hearing aid batteries and wonder bee pollen pills) compiled a list of the 30 most generous celebrities.
Not surprisingly, Oprah came in number one. I'm pretty sure it's a rule that she has to come in first place on any list. Even if the list were something like, "World's tallest man," or "Person who swam the most laps in a non-Olympic sized pool" somehow Oprah would still be best at it. Luckily this is a pretty awesome list to top, and she's in good company.
Oprah Winfrey tops a list of the 30 most generous celebrities, compiled by The Giving Back Fund and published in the Sept. 14 issue of Parade. The 54-year-old talk show host and media mogul gave out $50.2 million last year to causes including her foundation and Oprah's Angel Network. Power couple Brad Pitt and Angelina Jolie ranked sixth, with donations of $8.4 million in 2007. Among their interests: Pitt's charity Make It Right, which is helping to rebuild New Orleans.

Rounding out the top five: musician Herb Alpert with $13 million; Barbra Streisand with $11 million; Paul Newman with $10 million; and Mel Gibson with $9.9 million. "Some stars set a bad example from time to time, so it's nice to celebrate those who are doing good work," Parade editor Janice Kaplan tells Us Weekly in its latest issue. "We can't all give $50 million like Oprah, but she makes us understand that giving back matters," Kaplan adds.

Athletes Lance Armstrong, Michael Jordan and hockey player Eric Lindros tied for seventh place, with donations of $5 million each last year.
[From Us Weekly]
At first I was kind of confused about how Herb Alpert had $13 million to give away. Didn't he have a few singles back in the day? Is there really that much money left in vinyl sales? Then Wikipedia generously reminded me that Herb Alpert is the "A" in A&M Records. Which makes more since than "Tijuana Taxi" netting that kind of cash.
Brangelina is no big surprise – they've made it clear that visible charity is a big part of their lifestyle. A lot of people get terse about why they have to be so obvious about it and make such a big deal about their good deeds. Whatever their reasoning, when they do that they also bring publicity to a cause, so there's advantages for everyone.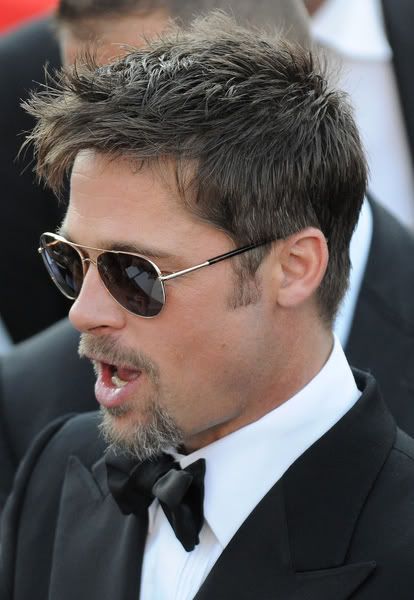 Here's Oprah at the 20th Annual Whitesboro Reunion Festival at the Martin Luther King Community Center in Whitesboro, New Jersey on August 30th. Credit: WENN. Brad Pitt is shown at the Burn After Reading premiere at the Venice Film Festival on 8/27/08. Credit: Solarpix / PR Photos