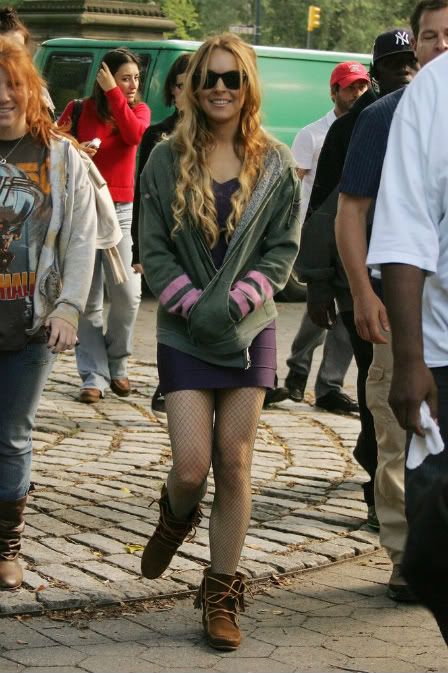 The Sun has a report that Lindsay Lohan and Samantha Ronson are definitely getting married in the next six months. Some version of this rumor gets all hot at least once a month (and invariably Michael Lohan comments at least every other month) before it settles down. However The Sun claims to have detailed quotes from Samantha, which is new.
SAMANTHA RONSON says that she WILL marry lesbian lover LINDSAY LOHAN in the next six months. Sam used her DJ slot at top LA hotel and night spot Chateau Marmont to announce the news, telling clubbers: "By the end of this year, my love will be Mrs Ronson." She added: "Tonight shows the power of a woman – to underestimate that is to underestimate the world."

Li-Lo – who yesterday showed off her trim figure in a bandage dress on the set of Ugly Betty – has also been talking up her relationship with Sam, plus their matching tattoos.

She told Marie Claire: "Samantha had some stars so I had some done as well.

"I am very happy. She is a fantastic person who has a great influence on everyone around her."
[From The Sun]
Samantha's comment sure makes you wonder. Not just for obvious reasons, but because it's harder to discount a public statement rather than something made by "insider source." It also shows that they're really starting to make bold statements about each other.
It's definitely way too soon for them. Lindsay is only 22, and a very immature 22-year-old at that. Given the nature of her parents, it's hard to imagine she's got a decent chance of ever developing a normal level of maturity. But she can still get a little more by waiting a few years before even considering marriage.
Here's Lindsay on the set of 'Ugly Betty' filming in Central Park today. Photographer: Anthony Dixon. Images thanks to WENN.