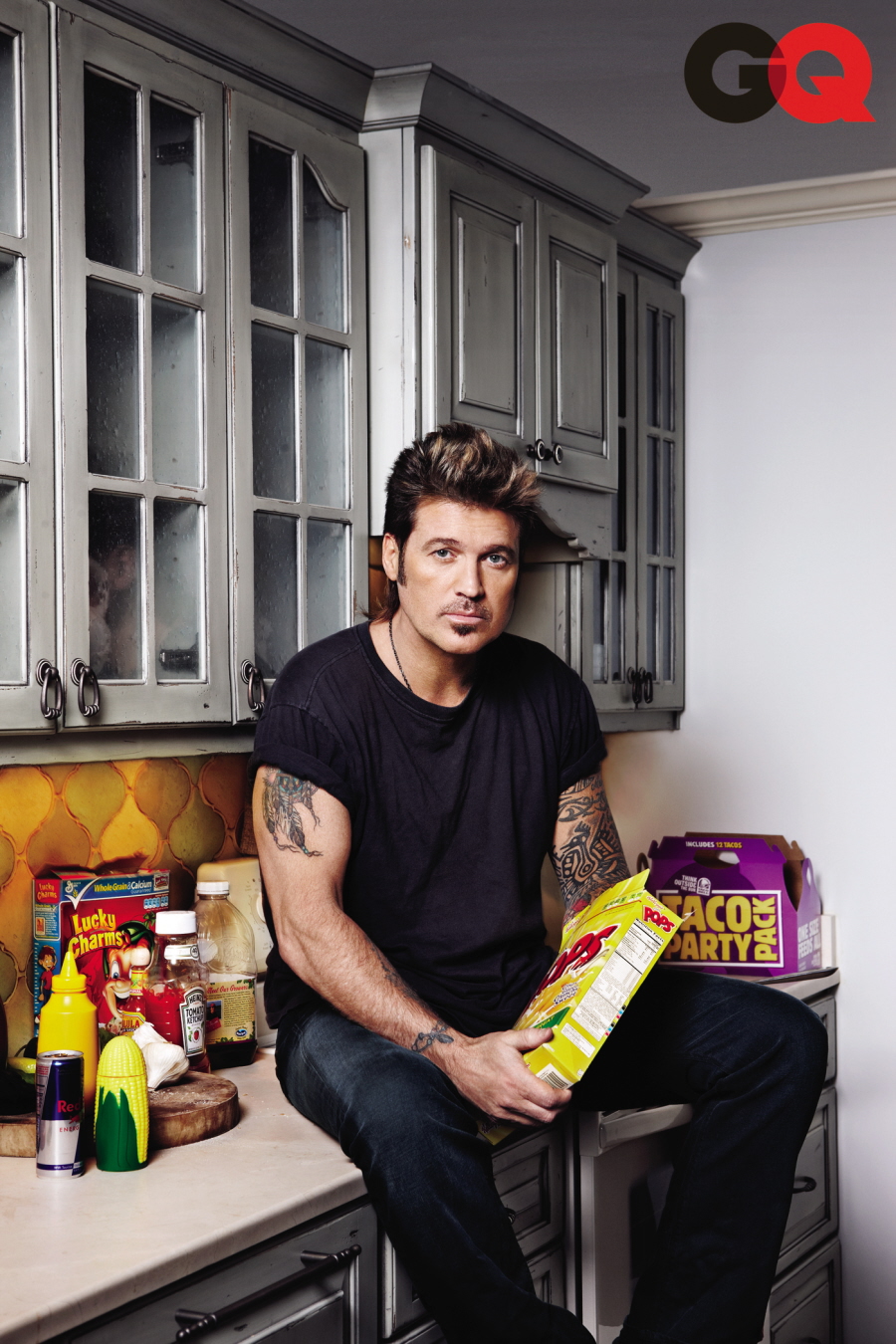 The Mullet Speaketh. To GQ. Billy Ray Cyrus has given his first big post-split interview after the drama with his estranged wife Tish (and perhaps Bret Michaels). I honestly have a twinge of sympathy for The Mullet. I think he got cuckolded (I'm trying to bring back old-timey terminology), and I think the pain of it still stings. Anyway, the interview takes place in The Mullet's old, rambling Tennessee home, where The Mullet has been living alone, post-split. He doesn't even want to turn the lights on for guests. It's a surprisingly good read! The full piece is here, and here are the highlights:
The Mullet is nostalgic: "My kids learned to color on this table. There's been a lot that's went around this table. Waylon Jennings sat right there in that chair and showed Miley the chords to 'Good Hearted Woman.' Sitting in that chair. This table's a bit like life. It's a circle. And I believe everything in life is a circle. You come into this world a little teeny wrinkled-up fetus…"

The Mullet on Miley-money rumors: "I'm proud to say to this day I've never made one commissioned dollar, or dime, off of my daughter."

Battling against Miley's controversies: "Every time something happened in Miley's career, every time the train went off the track, if you will—Vanity Fair,2 pole-dancing,3 whatever scandal it was—her people, or as they say in today's news, her handlers, every time they'd put me… 'Somebody's shooting at Miley! Put the old man up there!' Well, I took it, because I'm her daddy, and that's what daddies do. 'Okay, nail me to the cross, I'll take it….' All those people around, they used me every time. It became so obvious that, man, no matter what happens, they're going to put you up there and let you take the bullet

Why he chose not to attend her 18th birthday party: "Because they were having it in a bar. It was wrong. It was for 21 year olds and up. Once again all them people, they all wanted me to fly out so that then when all the bad press came they could say, 'Daddy endorsed this stuff.…' If I would have went out there I would have been right in the middle of all this stuff that's going on right now with the bong."

On David Lynch: "Were it not for David Lynch," Cyrus asserts, "Miley would never have been Hannah Montana." The most wildly incongruent item in Billy Ray Cyrus's CV is his appearance in David Lynch's 2001 movie Mulholland Dr. Cyrus is smart enough to know that to a certain kind of audience this will count firmly in his favor, and has likewise learned that a sound bite like "were it not for David Lynch…" will always get quoted in an interview like this. (The slightly tenuous reasoning: If not for Lynch's leg up, Cyrus might not have spent four years in Toronto starring in the uplifting, moral TV medical drama Doc, in which his daughter Miley would get early opportunities to guest-star…and so on.)

On Hannah Montana: Still, the acting role for which he is now most famous is as a teenage pop star's father, a part he says he only took to support his daughter. "I knew I was working for peanuts. I'm not the smartest man in the world, but I know the difference. I went from $12,000 a week to, after four years and the millions that they make, $15,000 a week. Hell, yeah."

After the first two seasons he felt things changing. "The business was driving a wedge between us," he says. He tells me that he has never been able to discipline his kids and that he now wonders whether that was a mistake. "How many interviews did I give and say, 'You know what's important between me and Miley is I try to be a friend to my kids'? I said it a lot. And sometimes I would even read other parents might say, 'You don't need to be a friend, you need to be a parent.' Well, I'm the first guy to say to them right now: You were right. I should have been a better parent. I should have said, 'Enough is enough—it's getting dangerous and somebody's going to get hurt.' I should have, but I didn't. Honestly, I didn't know the ball was out of bounds until it was way up in the stands somewhere."

On the Mullet: "It started way before me," he points out. "David Bowie rocked a heck of a mullet long before I did." Cyrus's contribution, if that is the word, was to popularize the extreme version where the hair clipped short at the front and the hair cascading past the back of the neck seem to belong to two entirely separate hairstyles. "I read that I have the distinct honor of creating the Kentucky Waterfall," he notes. "I think that's a pretty good name for it. Though I do love the Missouri Compromise."

On trying to help Miley through her controversies: "You know what, there's no doubt I did stuff when I was a teenager that I'm sure could have turned out horribly," he agrees. "I've done some stupid crap—I do stupid crap. We all do. But it's different when you sit back and you see it happening to your little girl. I feel like I got to try. It's my daughter. And some of these handlers are perhaps more interested in handling Miley's money than her safety and her career."

On Hannah Montana's impact on his family: "Oh, it's huge—it destroyed my family. I'll tell you right now—the damn show destroyed my family. And I sit there and go, 'Yeah, you know what? Some gave all.' It is my motto, and guess what? I have to eat that one. I some-gave-all'd it all right. I some-gave-all'd it while everybody else was going to the bank. It's all sad."

Wishing it had never happened: "I hate to say it, but yes, I do. Yeah. I'd take it back in a second. For my family to be here and just be everybody okay, safe and sound and happy and normal, would have been fantastic. Heck, yeah. I'd erase it all in a second if I could."
[From GQ]
The Mullet even has a Kurt Cobain story – it's a sweet one that made me like Kurt Cobain more. He compares Miley to Kurt – thankfully not musically. He compares her to Kurt in the "everybody can see the train wreck" way. He's very grandiose, the Mullet. He also talks about God and Jesus and the Devil and God's Way, and there's some New Age stuff thrown in too – I don't think he has a God Complex, I just think he considers himself a man of faith, and his convoluted understanding of his faith has lead him to do strange things. But this was seriously not the interview I was expecting – it's interesting to think The Mullet is in a position to disavow the Disney machine that has made his daughter a millionaire hundreds of times over.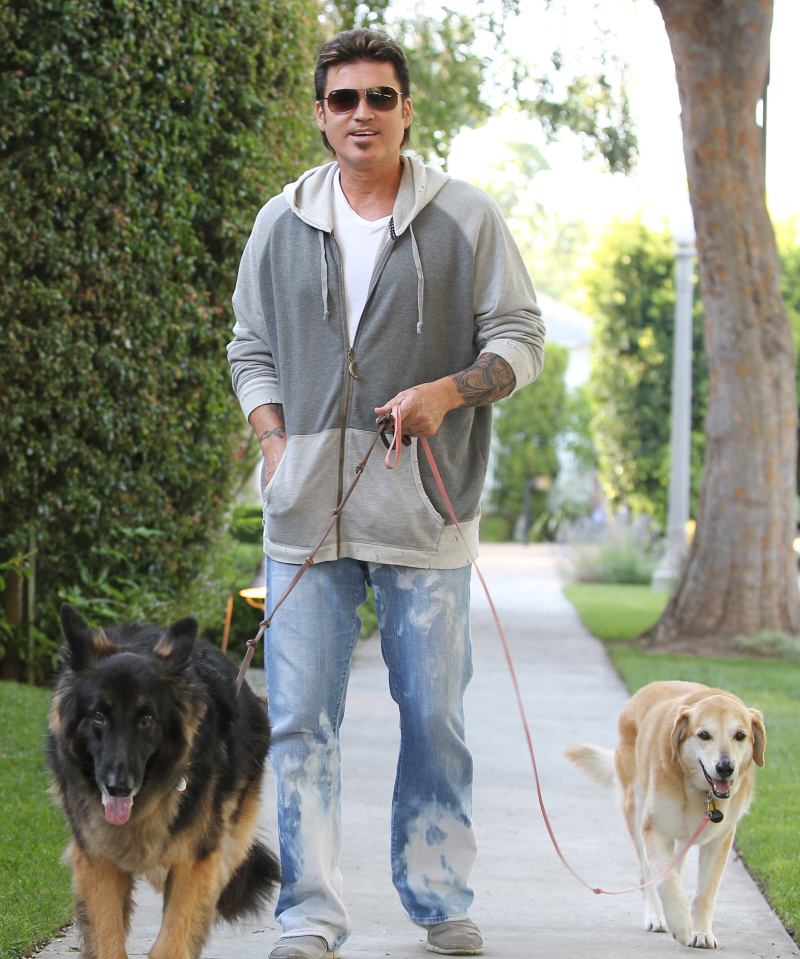 Header photo courtesy of GQ. Additional pic by WENN.