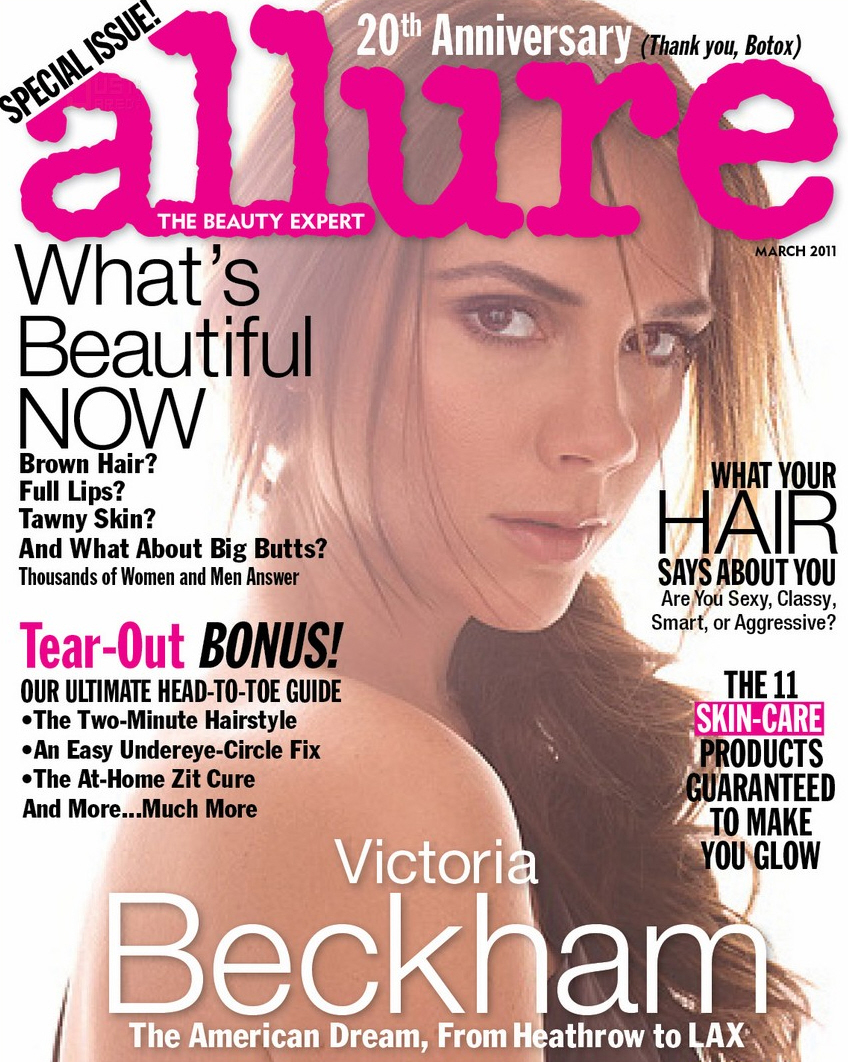 This is Victoria Beckham's new March cover of Allure. Considering Allure's last cover model was a bangs-trauma'd, little-girl-styled Jennifer Aniston, I consider Posh's fake-looking ponytail a welcome relief. The interview excerpts are few and far between though – I don't know if the interview was done before or after Posh knew she was pregnant, because Posh isn't discussing her dreams of finally getting a girl:
On her life at home: "Our house is a really happy house. There are kids running around and laughing and joking, I smile so much more than people would think. There's nothing better than being in LA with my kids, cooking dinner with my husband and having a romantic night in, and I get an email, and Demi Moore, Madonna, Drew Barrymore, Blake Lively, or whoever it is, is doing the red carpet and wearing my dress."

On Oprah wearing a dress from her collection: "I was so proud, I rang my mum."

On being comfortable in her own skin: "For the first time, I feel like what you see is what you get. This is me: the more natural hair, the slightly more relaxed way of dressing. I feel really content personally and professionally. I'm not freaked out about getting older. I'm growing older with the most amazing man I've ever met – with my soul mate. Life's great."
[From Allure via Just Jared]
She's so deliciously snotty. She's a little bit Gwyneth-like, right? Posh will tell you about her accomplishments in great detail, and she's the Queen of The Name-Drop. Speaking of, Posh recently name-dropped the girl every designer wants to dress: Kate Middleton.
At her New York Fashion Week show Victoria Beckham confirmed that she was sending a selection of dresses to Kate Middleton.

"Apparently, she likes my clothes and has asked to see a selection. It will be from my current spring/summer collection," Mrs Beckham said.

There is no question that this has anything to do with Catherine Middleton's wedding gown. She is believed to be interested in Victoria Beckham's dresses for formal day and evening engagements.

"It's tremendously exciting and I would be honoured if she were to wear my designs. I admire her tremendously. She's a beautiful young girl, she has a wonderful figure and I think she wears clothes beautifully," Mrs Beckham said.

Mrs Beckham unveiled her fifth collection at New York Fashion Week in an upper East Side town house that was once a 'Sex & The City' location. Before introducing each of the 29 pieces for next autumn/winter, as is her signature, she said: "I'm miked-up, but I'm not going to sing, so it's all good."

Wearing a loose beige cashmere "sack" dress with a built-in scarf, she laughed:"This is the only thing in the new collection that fits me. "When I started designing the collection I didn't know I was pregnant."

She denied the various reports which have claimed she is expecting a much-longed-for daughter. "I don't know whether it's a boy or a girl. I knew with the three boys, but this time I wanted it to be a surprise. If it's a boy, the boys will be thrilled to have a little brother and if it's a girl, it will be just as wonderful."

She laughed off reports she intended to "do a Demi Moore" and pose nude with her "bump" for American Vogue.

"I'm not posing nude for anybody," she said.

She revealed that husband David was flying into New York tonight "so we can have Valentine's Day together. He's very romantic.

"And he's so supportive. He knows how important this is to me and he's happy to be home taking care of the children."
[From The Telegraph]
Kate Middleton in Victoria Beckham? Why not cut out the middle man, Kate? Just call Roland Mouret and have them dress you.
In another interview, Posh denied again that she's having a girl – well, she said she didn't know the sex of the baby. Do you believe her? I hope that if she is having a girl, that she'll announce it so we can all join in her in celebrating, Posh-style (with a carrot stick and a fake tan).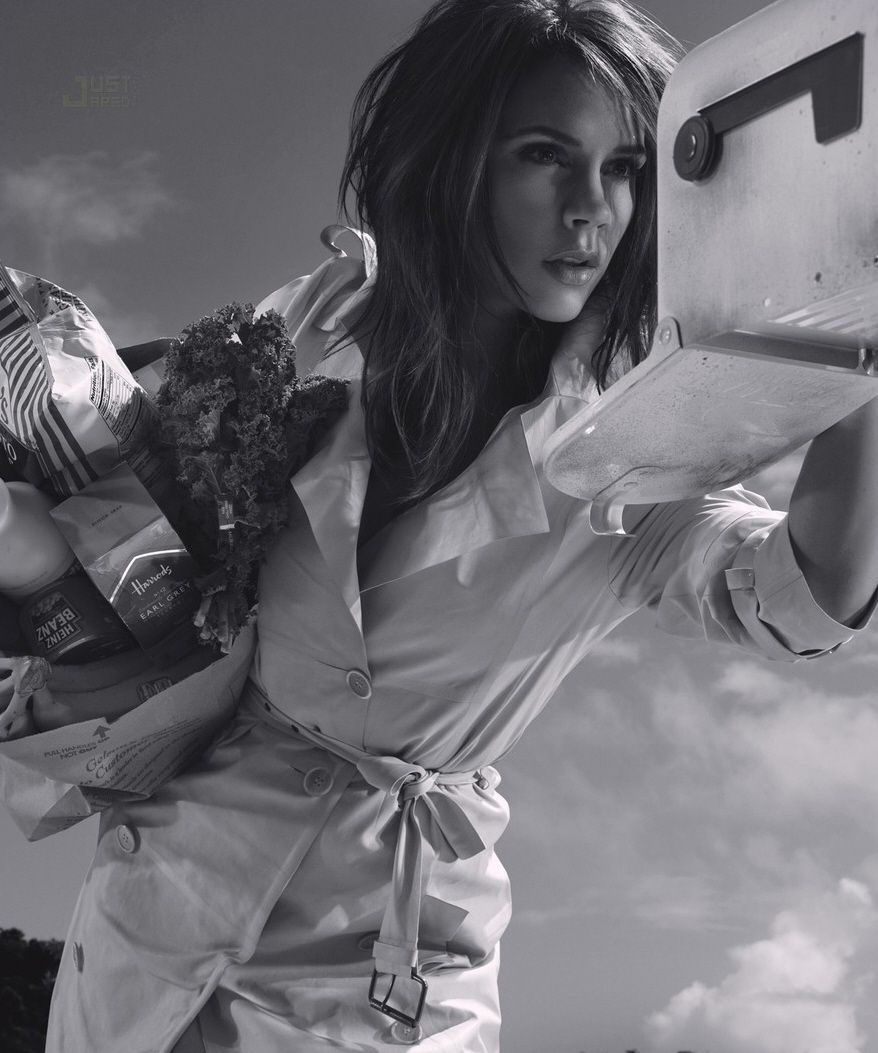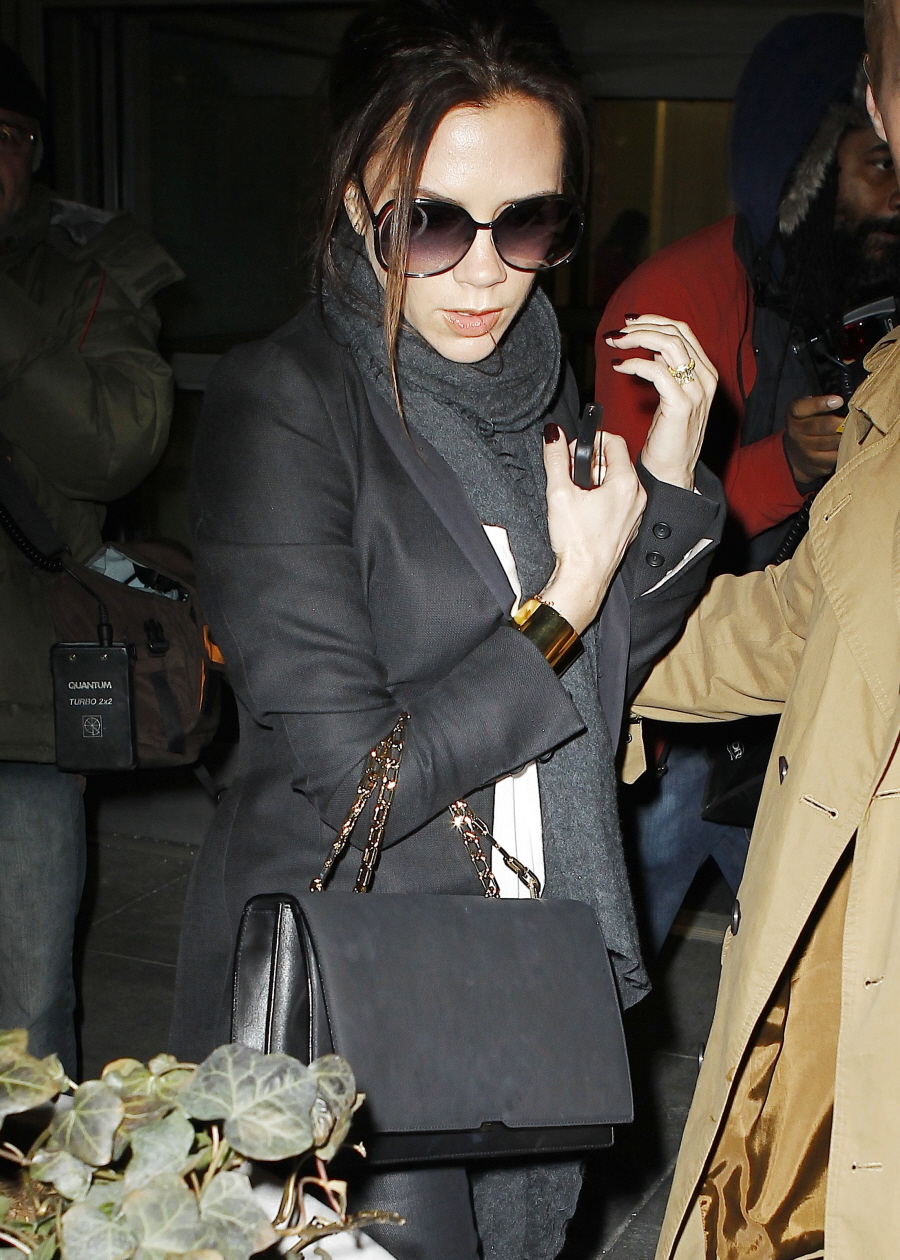 Photos courtesy of Just Jared/Allure and Fame.