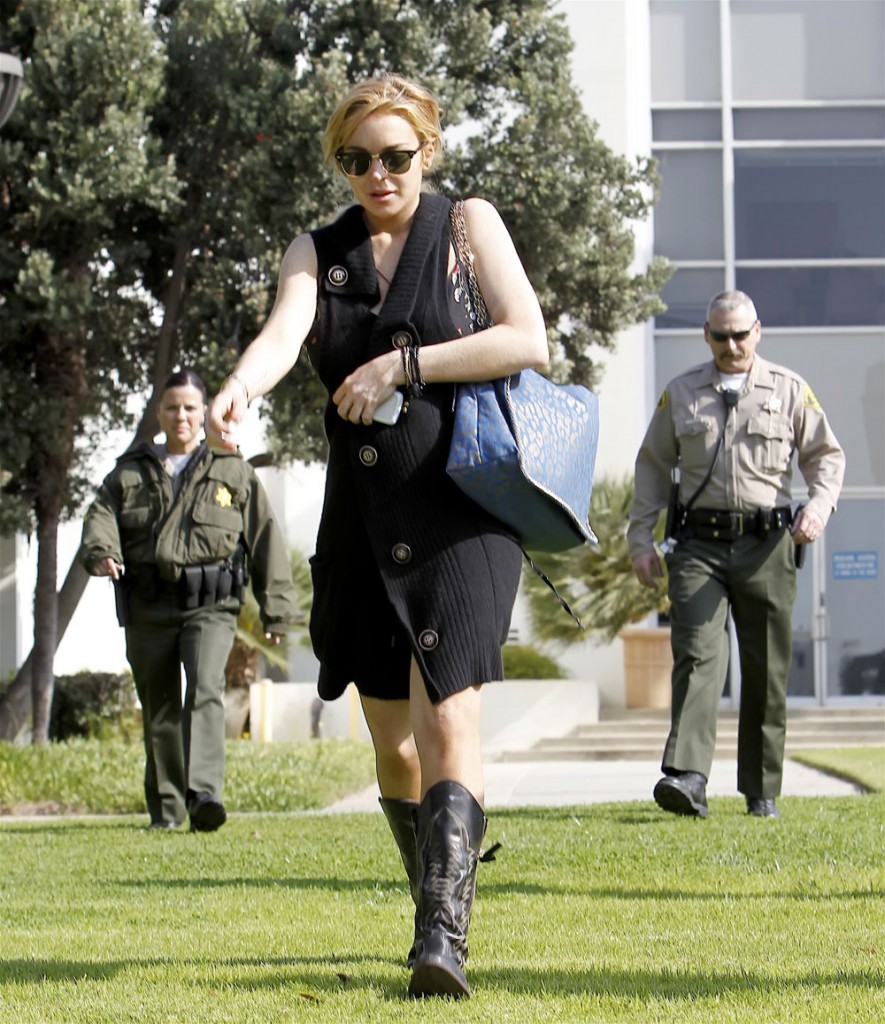 It looks like Lindsay Lohan is planting stories in both TMZ and Radar Online. TMZ had a story over the weekend saying she would just happen to be spending Valentine's day with her ex and the woman she had no idea she was moving next to, Samantha Ronson, but that they were "just friends" and planned to be at the same dinner party that night. Now Radar Online has a photo of Lindsay "sneaking out" of her accidental neighbor Sam's house to return back to her adjacent rented townhouse on Valentine's day. How did someone "happen" to catch Lindsay sneaking through the bushes home? Could Lindsay have perhaps told a paparazzo to be there and subsequently split the profits with him when they sold the photos to the highest bidder? Is Sam regretting not moving the hell out the minute Lindsay moved in?
In related news about Lindsay, Radar reports that there's a star witness about to come forward in the case of the purloined necklace. A man is supposedly is going to testify that he wanted to buy it and was quoted a price of $800, not the $2,500 the store says it's worth, which would make Lindsay's crime a misdemeanor, not a felony. How convenient for Lindsay's case and not at all suspicious. TMZ has a related story that the prosecutor believes the necklace is worth $2,500. I believe that Lindsay will squeak through yet again, as she's done for the past several years. I could be pleasantly surprised, though.
Oh and after I wrote all that, a tip came in from reader Christina that Lindsay owes 200,000 euro, or around $270,000, for accepting a hefty appearance fee to go to the Vienna opera last year and then cancelling at the last minute. (To go shopping, natch.) The businessman who paid Lindsay to be his date, Richard Lugner, says she gave him about 10,000 euro back and he's deciding whether to sue her for the rest. It's unclear from the story whether the full fee he paid Lohan was 200,000 euro or whether he's saying that he paid "below" 200,000 euro. Reports at the time had her being paid $150,000. Either way, it's a hell of a lot of money and of course Lindsay absconded with it. This guy made the grave mistake of paying her upfront.
Lindsay is shown on 2/8 and 2/9/11. Credit: WENN.com