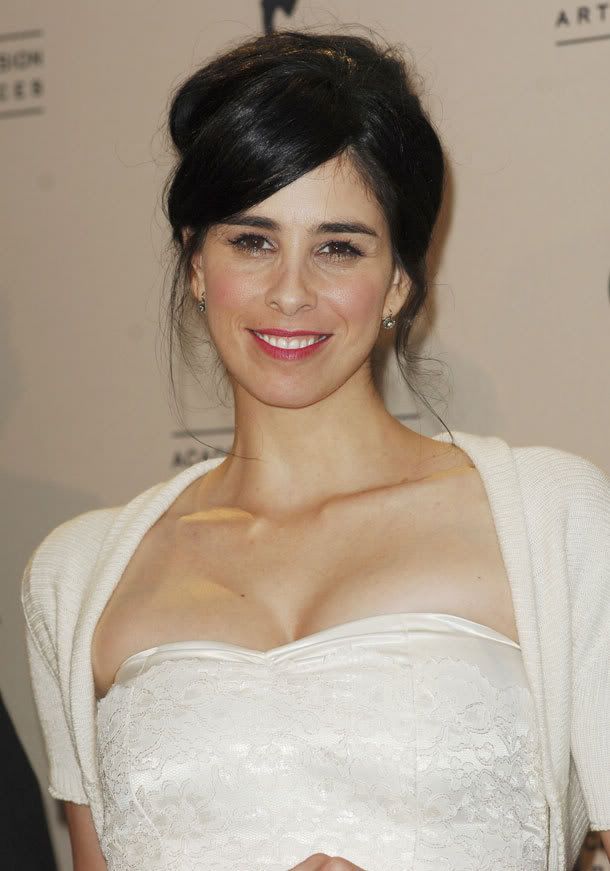 In a ceremony for the Creative Arts Emmys held Saturday in Los Angeles, and hosted by Neil Patrick Harris and Sarah Chalke, Sarah Silverman won two Emmys for the incredibly funny and oddly poor-timed video, "I'm F'cking Matt Damon". Sarah bagged the Best Original Music and Lyrics and a picture-editing award.
Originally recorded for then boyfriend Jimmy Kimmel's late night show, the song became a internet hit and spurred a rebuttal video from Kimmel, claiming he was f'cking Ben Affleck. Sarah and Damon's song was much better, but Jimmy's video had an amazing number of cameos including Brad Pitt as a FedEx delivery guy, a We-Are-The-World-style sing along with more names than I can count, and Harrison Ford being very unHarrison Ford-like as he speeds away in a convertible.
The Damon-Kimmel "feud" goes back to September 2006, when Damon delivered a very convincing tirade on Kimmel for bumping him from the show… again. Although I've never seen it substantiated, I think Matt Damon showed just how good an actor he is in the closing credits of that show. Damon references the joke at the end of the Silverman song.
The song was released in February and Silverman and Kimmel ended their five year relationship in July, but Sarah, who's not generally known for her manners or compassion, knew who to thank in her acceptance speech.
"Let's be honest, Matt Damon had very little to do with this being popular," Silverman, 37, said while accepting her award at the Creative Arts Emmys for the salty music video "I'm F—— Matt Damon" at the Nokia Theatre in Los Angeles.

"Thanks to the person for whom this whole video was made: Jimmy Kimmel, who broke my heart – ohh, who'll always have a place in my heart," Silverman continued.

In her speech Saturday, Silverman also thanked her cowriters and joked, "this makes all the, 'Hey, I'm f—— Matt Damon, too,' totally worth it."
[From People.com]
The Creative Arts Emmys air on E! September 20th.  The Primetime Emmy Awards air on ABC September 21st.
Sarah Silverman is shown at the Creative Arts Primetime Emmy Awards on 9/13/08. Credit: Apega; Adriana M. Barraza / WENN