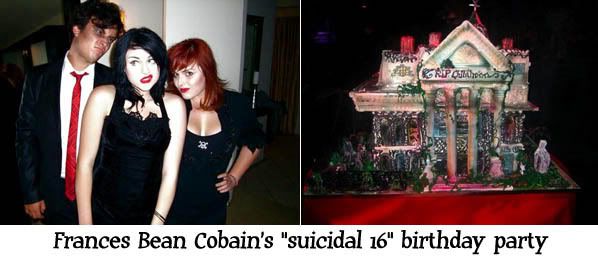 I vividly remember the day the news came out that Kurt Cobain was dead in an apparent suicide, April 5, 1994. I was in college at the time and ended up glued to the radio most of the day, waiting for more news about it. At first they didn't confirm that it was Cobain's body which was found, and we were hoping it was just a mistake and was someone else. It was indeed Cobain and the troubled lead singer of the band that popularized grunge music was dead at 27 like other music greats before him. I remember the party I went to that night, in which Nirvana was blasting, and the friends I talked to, drunkenly discussing what it all meant in our young lives.
14 years later and Cobain's only child, Frances Bean, made the questionable decision to celebrate her 16th birthday with a "suicide" themed party at the House of Blues in LA in which a contest was held for guests that looked the most "dead." The party featured the band "Mindless Self Indulgence" and cost her supposedly broke mother $323,000.
Courtney Love spent over $323,000 on her daughter's birthday party.

The Hole singer – who is the widow of the late Nirvana frontman Kurt Cobain – spared no expense in ushering Frances Bean into adulthood at her 'RIP childhood' themed 16th birthday.

The event was held at Los Angeles' House of Blues restaurant. Courtney arrived in a dress worn by actress Angelica Huston in creepy comedy movie 'The Addams Family'.

Frances' announcement of the party:

Date: Tuesday, September 2, 2008
Time: 9:30pm – 11:30pm
City/Town: Los Angeles, CA

MY one and only sweet 16…..eerrrr actually it's my "suicidal 16″.
At the house of blues, on September 2nd from 8:30 (TIME HAS CHANGED FORM 9:30 TO 8:30 KEEP THAT IN MIND) to 11:30 pm.

MINDLESS SELF INDULGENCE IS PLAYING
i suggest all who intend on coming go to itunes of youtube and look them. If you don't like them, then please don't come. all will be forced to jump around and dance. ALL.

YOU MUST BE WEARING BLACK OR RED OR YOU WILL NOT BE ALLOWED IN! this does not mean you have to wear something "nice" or "fancy" but there is a color code so do it!

Your bags will be searched at the door
not my rules, but it is the house of blues' rules
so don't be stupid and try to bring shit it
do it b4 you get into the party if you have to
and try to be stealth!

DON'T SEND ME (frances) YOUR ADDRESSES ANYMORE
SEND THEM TO GIANA!!!!!!!!!!!!!!!

Pinkberry and The IN N' Out truck will be catering. Of course there will be vegetarian food there to.

WE ARE ALSO HAVING A CONTEST
its the "who can look most dead contest"
if you dress up dead and are picked as the top 3 you will receive a: IPOD TOUCH and a $200 gift certificate to amoeba.
so get that face paint on, and try to make it as realistic as you can. there will only be 3 WINNERS.

i guess that's it!
hope to see you guys there!

xx franny
[From ONTD via Gossip Rocks]
Frances is 16 and we all did stupid things at that age. She might not fully realize or care that some might consider it tasteless to have a suicide-themed "death of childhood" party, even without a dad who supposedly died by his own volition. It would have been up to her prescription drug-addled mom, Courtney Love, to tell her that it was inappropriate. We all know that never would have happened and Frances got her suicide-themed party. Maybe in a way she was triumphing over a troubled past – or just being a teenager who doesn't give a sh*t and thinks death is a style to embrace and a long way off.
Frances looks very pretty with black hair and red lips. She should smile more.
Photos from Frances Cobain's MySpace